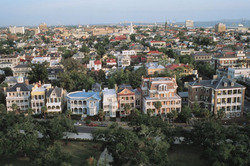 Charleston, SC (PRWEB) July 30, 2008
The 32nd Annual Fall tour of Homes & Gardens will take place from September 25 - October 26 in Charleston, SC. Self-paced and self-guided walking tours include, on average, eight to ten properties per tour. All properties are in historic districts listed in the National Register of Historic Places and all vary in architectural styles and periods. Volunteers stationed at each property offer helpful information and guidance along the way. Tickets are $45 per person, per tour and can be purchased online at preservationsociety.org; by calling 843-722-4630; in person at 147 King Street; or by mailing in the ticket order form.
Tours usually include properties on more than one street and cover six to eight blocks. No high heels are allowed since they can damage historic wood floors, so wear flat-soled walking shoes. Having a flashlight in tow is also helpful when touring during evening hours. You'll visit historic streets like King Street (named for King George I of England) Broad Street with its Greek Revival and Victorian architecture, and the South Battery, where grand and stately homes include some of the city's finest examples of the Neoclassical Revival Period.
The five week event is sponsored by The Preservation Society of Charleston and allows visitors an up-close-and-personal glimpse of historic properties and an understanding of the unique heritage that this National Historic Landmark city enjoys. The Preservation Society was founded in 1920 by a group of Charlestonians concerned with preserving American collections of 18th, 19th and 20th century architecture.
ResortQuest is offering visitors to Kiawah Island, Seabrook Island, Isle of Palms and Wild Dunes exciting and exclusive ways to save, all while staying in fully-equipped private homes, villas and cottages. The area offers miles of pristine beach, championship golf, tennis, biking, nature tours, shopping, dining, water-related activities and more. A program called ResortQuest Privileges offers special rates and discounts on activities, tours, dining, and shopping from area venues.
About ResortQuest:
ResortQuest, one of the nation's leading vacation rental and resort real estate companies, provides a one-stop resource in North America's premier resort destinations. ResortQuest Charleston is the largest vacation rental company serving Charleston and the beach resort islands of Kiawah, Seabrook, Isle of Palms, Wild Dunes and Sullivan's Island. ResortQuest has offices located on Kiawah Island, Seabrook Island and Isle of Palms, South Carolina.
###