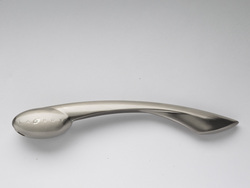 The traditional recliner handle symbolizes La-Z-Boy and the comfort associated with our furniture
Monroe, Mich. (PRWEB) July 31, 2008
A hard-working, much-loved American furniture symbol is receiving a well-deserved makeover. Helping consumers recline in stylish furniture since the 1950's, the traditional wooden handle of the iconic La-Z-Boy recliner has donned a new streamlined design with a sleek brushed metal finish. The new handle option will allow consumers to further customize the look of their La-Z-Boy furniture to match the style of their living spaces. The new offering is available for any La-Z-Boy motion furniture that features a handle, including an array of recliners, motion sofas and loveseats.
"The traditional recliner handle symbolizes La-Z-Boy and the comfort associated with our furniture," said Doug Collier, chief marketing officer for La-Z-Boy. "This new twist on the iconic La-Z-Boy handle offers customers the ability to modernize their reclining furniture with a sleek, contemporary addition."
The new ergonomic handle, known as the "Arc," lives up to its name with a swooping arc shape. A brushed metal coating adds durability to the handle and protects its sleek silver finish from scratches.
"Our history has shown us that comfortable motion furniture is always in style and the sleek new La-Z-Boy handle allows customers to customize their furniture with a fashion-forward option," said Collier.
The new Arc handle will be available starting July 2008 through mailto:FGlocator@lzb.com [La-Z-Boy Furniture Galleries], La-Z-Boy Comfort StudiosSM dealers and anywhere genuine La-Z-Boy furniture is sold. Customers can visit http://www.lazboy.com to find the La-Z-Boy retailer nearest them.
About La-Z-Boy
Headquartered in Monroe, Mich., La-Z-Boy is North America's largest manufacturer of upholstered furniture and the world's leading producer of reclining chairs. The company manufactures a full line of comfortable products for the living room and family room, including the company's world-famous recliners, reclining sofas and love seats, sleep sofas, modular furniture and leather upholstery, as well as stationary sofas, love seats and chairs. It is a division of La-Z-Boy Incorporated (NYSE: LZB), one of the nation's largest furniture manufacturers and marketers. Comfort. It's what we do.SM
###