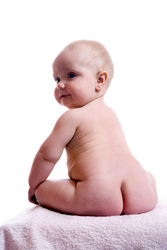 However, if your baby's diaper rash persists, or if sores start to appear on your baby's skin, talk to your pediatrician or healthcare provider
Alexandria, VA (PRWEB) July 30, 2008
The first sign of diaper rash usually starts with a heart-wrenching scream from your baby, which can make just about any parent feel helpless. "So many times I get calls from parents in a state of panic wondering why this happened to their baby and most often blaming themselves for doing something wrong," expresses noted pediatrician James Sears, M.D., co-author of The Baby Book and member of the Lansinoh medical advisory board.
Most babies will experience at least one episode of diaper rash, if not more, he says. "Diaper rashes are most common for babies between eight and 10 months old. They also frequently appear when babies are taking antibiotics, having loose stools, or have just started solid foods." In fact, anytime a baby sits too long in a wet or stool-soaked diaper, a rash can result.
"If your baby does not have a problem with diaper rash, then you don't need to be too strict with these preventative measures," says Dr. Sears. However, if you are constantly battling diaper rash, here are some of his helpful hints to prevent or minimize it:

Change diapers frequently - At least every two hours for a newborn, and then more spaced out as baby starts to urinate less often. The less contact time a soiled diaper has with the skin, the better.
Change poopy diapers right away - This is a lot of trouble at first since newborns often have small, frequent stools, but these will slow down as baby grows.
Try different brands of diapers - A diaper that is too snug or loose can cause irritation to tender skin. If you suspect your diaper (disposable or cloth) may be causing the diaper rash, try another brand that may fit a little better and cause less friction.
Use hypoallergenic wipes - Look for hypoallergenic wipes that do not contain alcohol. Lansinoh Clean & Condition Cloths are a good choice because they contain Lansinoh's HPA Lanolin, the world's purest, safest lanolin available to soothe and heal skin. The lanolin conditions skin to prevent dryness and chaffing and the gentle formula provides a protective barrier between diaper changes.
Wipe well - Be sure to wipe all the stool and urine away. Skin that is exposed to urine or stool for a length of time is at risk for developing diaper rash.
Diaper rash treatment - Some lucky babies don't need any diaper rash treatment, while more sensitive bottoms need a cream or ointment with each new diaper. Look for a product such as new Lansinoh Diaper Rash Ointment, which offers triple protection - protects and conditions the skin at the same time and promotes healing. With its non-greasy texture, the Diaper Rash Ointment goes on white, rubs in clear and doesn't make a mess, unlike any other diaper rash treatment. Lansinoh Diaper Rash Ointment contains a unique formula that contains Lansinoh's HPA Lanolin, the world's purest lanolin that is ideal for baby's delicate bottom, in a blend of ingredients - lanolin, microfine zinc oxide and dimethicone - that offer triple protection. It's also packaged in a convenient flip-cap that's easy to use with one hand and is fragrance free and hypoallergenic.
It's important to know that while you think your baby has the worst case of diaper rash, it will usually go away within two to three days with home care. "However, if your baby's diaper rash persists, or if sores start to appear on your baby's skin, talk to your pediatrician or healthcare provider," advises Dr. Sears.
New and expecting moms can visit http://www.lansinoh.com to:
Join Lansinoh's Online Community (http://www.lansinohmoms.com) where moms can share their stories of the joys and challenges of early motherhood
Register for a chance to win a free Lansinoh Manual Breast Pump or Lansinoh Double Electric Breast Pump
Learn more about Lansinoh breastfeeding products and "where to buy" information
Sign up for Pre-Natal Nurture Notes™, special e-messages received twice a month during the last trimester that focus on preparing for the baby's birth and breastfeeding, or, the popular Nurture Notes™, e-messages that provide breastfeeding tips, encouragement and support from birth until the baby's first birthday
###