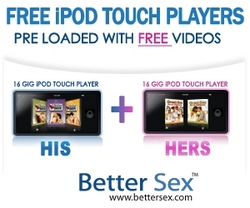 We believe great lovers, like great golfers, cooks or business people, are made not born and our DVD's provide insight and information guaranteed to help
Hillsborough, NC (PRWEB) July 30, 2008
BetterSex.com is excited to announce that they will be giving away 2 Apple iPod Touch players pre-loaded with videos from the company's adult sex education library. The "His" and "Hers" iPod Touch Sweepstakes will be drawn on August 10th. "We figured that anyone can give away iPods, but only we can give away 2 iPod Touch Players guaranteed to improve some lucky person's love life!" said Martin Smith a director for the company.
A single winner will win both a "his" blue iPod Touch Player and a "hers" pink player with a total retail value of $1,000. Each player contains several hours of DVD's on how to improve one's love life. Contest entrants must be at least 18 years of age and the contest is only open to mailing addresses in the United States. No purchase is required. Contestants may enter once per day by filling out a form at http://www.bettersex.com/t-better-sex-sweepstakes.aspx .
Contestants using the online form must double opt-in to win. "Security is important to us," explains Mr. Smith, "emails must be confirmed by a double opt in process and we never share, rent or sell our email addresses." Contestants may also enter by mail as outlined in the contest terms and conditions linked off the main contest page.
"Our contest goal, like our company goal, is to help couples improve their love life," said Mr. Smith. "We believe great lovers, like great golfers, cooks or business people, are made not born and our DVD's provide insight and information guaranteed to help," concluded Mr. Smith.
About the company: BetterSex.com is the creator of the award winning Better Sex Video Series and online source for Adult Sex Education. Together with the Sinclair Institute, they are leading sources of online information for Better Sex and adult sex products for couples who want to improve their quality of life.
Contact:
Martin Smith
Director E-Commerce
BetterSex.com
PH: 919.732.6005 ext. 232
FAX: 919.732.5393
###