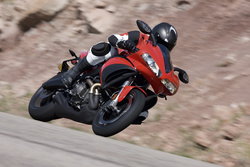 Buell has a relatively short history but it's a company that's all about biking passion, commitment and dedication
(Vocus) July 31, 2008
To celebrate the 25th anniversary of the Buell motorcycle company, Bikesure is offering 10% discount on all new motorcycle insurance policies for Buell bikes taken out before the end of the year. The 10% can be combined with several of Bikesure's other discount deals, such as limited mileage schemes, to get even cheaper motorbike insurance.
"Buell has a relatively short history but it's a company that's all about biking passion, commitment and dedication," says Robert Balls of Bikesure. "Their radical attitude to design, their technical wizardry and the bikes' cool, aggressive looks have fired imaginations and inspired bikers since the company was founded by former Harley-Davidson engineer Erik Buell in 1983.
"Over the years Bikesure has developed special polices for both Harley-Davidson and Buell motorcycles. We wanted to get involved in the celebrations, so we chatted to some of our Buell customers and the discount seemed the best way."
The discount will apply to all Buell bikes – sports, streetfighter and adventure, along with Buell's various derivatives – and to both new and used machines. To get a quote simply call the Bikesure quoteline on 0800 089 2000 or visit the company's website - http://www.bikesure.co.uk - where you can also buy cover online.
Bikesure is 100% British owned and based. It has a huge range of specialist policies for the motorcycle enthusiast, including cheap motorbike insurance schemes for performance and custom bikes, scooters, trikes, quads and bug riders.
Buell Insurance Discount.doc – Jul-08
Press Enquiries:
Toni Turner or Alison Haynes at The Publicity Works
Tel: 01263 761000 Email: bikesure @ publicityworks.biz
Robert Balls at Bikesure Insurance: 08700 771377
Press information, digital files, photos etc., available on request from bikesure @ publicityworks.biz
###