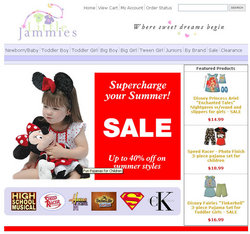 We continuously monitor what's hot, what the celebrity trends are, when the movie releases are scheduled and take action to meet the consumer demand for licensed sleepwear
Cranford, NJ (Vocus) July 31, 2008
Panda Apparel LLC, a two year old apparel retailer, has launched their latest website, http://www.littlejammies.com . LittleJammies.com is unique from other pajama websites, offering over 300+ styles of novelty sleepwear for toddlers to teens. Although the economy is currently affecting many apparel retailers, Panda's market research indicates that sales in children's licensed sleepwear are up 6% and will continue to grow well into 2009. The momentum in sales can be attributed to the strong licenses that are available in the market today. Apparel featuring pop culture's current celebrities such as Hannah Montana and High School Musical are leading the way, followed by styles featuring Classic Disney, Super Heroes, Nickelodeon and Pixar characters. "We continuously monitor what's hot, what the celebrity trends are, when the movie releases are scheduled and take action to meet the consumer demand for licensed sleepwear" says partner and web developer Scott Marino.
Panda Apparel's partners are confident that LittleJammies.com will be successful as they head toward fourth quarter selling. "Pajamas are an ideal holiday gift and with offerings from Little Mermaid to Batman to Hannah Montana, we think we have a home run," says partner and buyer Donna Marino.
Children's sleepwear traditionally does well in the licensed apparel market because it is necessary for consumers to replace them as the child grows and the seasons change. The novelty options make purchasing childrens sleepwear much more attractive to the consumer. With so much to offer, LittleJammies' comprehensive collection at attractive prices makes it a win-win for the parent and the child. The parent gets a product at a reasonable price and the child gets to wear their favorite character - no more bedtime struggles to get them into their "jammies". In addition to sleepwear, LittleJammies.com carries a wide variety of underwear, lounge wear and bedroom accessories.
###