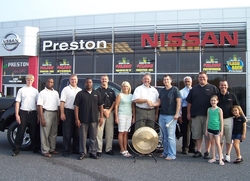 The programs that Nissan has developed for the Xterra, Quest, Titan, Frontier, and Pathfinder lines are truly the best I have seen in my career
Preston, MD (PRWEB) July 30, 2008
On July 29, 2008 Preston Nissan sold its 100th vehicle for the month of July, 2008. Preston Nissan is the second franchise ever in the Preston Automotive Groups History, http://www.prestonmotor.com ], to sell over 100 New Vehicles. "The excitement at Preston Nissan is overwhelming," said Earl Murphy's 100th customer, Brian Johnson. Nissan's Retro program is the largest in Nissan History, possibly automotive history and it has provided the Preston Nissan Sales Team the edge needed to make a splash in automotive sales during our current economic conditions. "For dealers that decided to get in the game, this program will help set all time record sales. Preston Nissan has shown what can happen when Vision, Strategy, Implementation and Execution come together," says Carlos Alvarez, Nissan North America Inc., Dealer Operations Manager.
The Nissan brand is known for crafting vehicles that place an emphasis on edgy styling, safety and performance. The company's lineup of vehicles is broad, and includes sporty coupes, family sedans, minivans, trucks and SUVs. The Preston Nissan Team is known for making the car buying process fun, pleasant and a unique experience. Since 1975, the Preston Automotive Group has been providing customers with quality sales and service, but the number one priority at Preston has always been customer satisfaction. As a Preston value added benefit, Preston Nissan is pleased to offer the Preston For Life program, a company exclusive and only available to our Preston customers.
"The programs that Nissan has developed for the Xterra, Quest, Titan, Frontier, and Pathfinder lines are truly the best I have seen in my career," said David Wilson, Preston Automotive Group President. Other factors that have aided in the record month at Preston include the 5 Star Crash Safety ratings and the fuel efficient Nissan models such as the Versa, Sentra and Altima. Preston's huge selection of inventory of hundreds of Nissans which include all of the aforementioned models plus the Versa, Maxima, 350Z and the crossover vehicles like the Rogue, Murano and the Armada have also contributed to the record breaking sales event. "It's not just about the product and the programs," adds David Wilson, Jr. Preston Autoplex, Vice President. "For us to hit any of our goals we have to work as a Team." The Preston Group has exemplified team work as they break all Nissan sales records. Not only the sales team at Preston, but the entire Preston Autoplex staff have contributed to the success of this month. The deals are so good that everyone at Preston is referring friends and family to take advantage of the huge discounts and savings going on at Preston Nissan and http://www.prestonnissan.com .
Preston Nissan on the corners of Rts. 318 & 331 is centrally located on Delmarva, convenient for Delaware, Maryland, Virginia, and Pennsylvania clients to shop. At prestonmotor.com all shoppers can view inventory, specials, miles per gallon (MPG), safety ratings, green technology, as well as directions and contact information to all of the Preston locations. Visit prestonmotor.com for additional information. The Preston Automotive Group features Ford, Lincoln, Mercury, Mazda, Nissan, Hyundai, Chevrolet, Buick, Pontiac, GMC, Suzuki and Pre-owned and certified Pre-owned vehicles. The Preston Group plans to have a record breaking August, so log on to http://www.prestonmotor.com or stop by any of the Preston locations to find out how you can be part of the Preston excitement.
For further information on this once in a lifetime event please contact Dave Wilson Jr. at 877-875-5594 or visit http://www.prestonnissan.com.
# # #