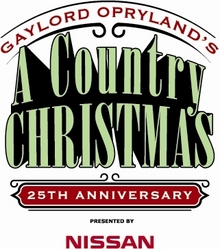 Nashville, TN (Vocus) July 30, 2008
Donning Santa hats instead of sunhats, Gaylord Opryland Resort's decorators towered overhead in cherry pickers today, stringing Christmas lights in the July heat as they begin getting the resort all dressed up for Christmas. The "most Christmassy hotel in the nation," as named by the Travel Channel last year, has started gearing up for its 25th anniversary celebration of the most wonderful time of the year--and it doesn't even begin for another four months!
"People can hardly believe their eyes when they see us out here," said Hollis Malone, manager of horticulture at Gaylord Opryland Resort & Convention Center. "It's nearly 100 degrees, and we're wearing Santa hats, stringing Christmas lights in all the trees around the resort. We hang nearly two million lights every year, which takes a while to do. So, when the weather feels like we should be heading to the pool, we're actually braving the heat and welcoming Christmas to Nashville!"
The resort's horticulture team began stringing lights a few days ago in preparation for the nationally popular holiday event, "A Country Christmas" presented by Nissan. They will work for nearly four months to complete this task, stringing lights on 500 shrubs and more than 461 trees, some with each branch being individually wrapped. The two million lights consist of 20,000 strings, with 100 bulbs on each--that's enough to stretch from Nashville to Knoxville if the lights were placed end to end. The public will be able to see all the hard work this team of four has put into this "sparkly" project when the lights are flipped on during the annual lighting ceremony, scheduled for Thurs., Nov. 13.
The silver anniversary of "A Country Christmas" begins Nov. 13, 2008 and runs through Jan. 4, 2009 at the resort in Nashville, Tenn. This year promises more than a dozen activities, shows and events, like the return of ICE! featuring How the Grinch Stole Christmas! by Dr. Seuss; Louise Mandrell's 'Joy to the World' Christmas Dinner & Show; the Radio City Christmas Spectacular starring the world-famous Rockettes; two new holiday shows aboard the General Jackson Showboat; and maxed-out family fun in Winter Wonderland, where "kids" of all ages can enjoy rides, Santa, shopping, classes and more.
To see photographs of the resort's horticulture team, plus a surprise visit from the Grinch himself, stringing lights in the summer heat, click here: http://www.gaylordhotels.com/gaylord-opryland/media-room/pr-photos/2008_07_30/index.html. To see a video of this event, visit: http://www.gaylordoprylandsales.com/christmas/press.
More information about "A Country Christmas" can be found on the web site at http://www.gaylordopryland.com or by calling 1-888-999-OPRY.
About "A Country Christmas":
Gaylord Opryland's 25th annual "A Country Christmas®" presented by Nissan is proud to present ICE!™ featuring How the Grinch Stole Christmas by Dr. Seuss. This is the Only SHOW like it in the USA! From the Grinch's frozen mountain top lair, to the interactive slides and surprises, this life-sized story told in ice will make even the coldest of hearts grow three sizes. The Radio City Christmas Spectacular® presented by Allstate® Insurance Company, starring the world-famous Radio City Rockettes® is back with dazzling costumes, brilliant choreography and favorite scenes, such as the "Living Nativity" and the "Parade of the Wooden Soldiers." There's Louise Mandrell's Joy to the World Christmas & Dinner Show; NashVegas on the River and Now That's A Country Christmas with Tim Watson aboard the General Jackson® Showboat, Winter Wonderland featuring Treasures For The Holidays craft show, Santa's E-mail, Hall of Trees, Gingerbread House-Making classes; and Carriage Rides and nearly two million Christmas lights. It's everything Christmas and all at Gaylord Opryland.
About Nissan North America:
In North America, Nissan's operations include automotive styling, engineering, consumer and corporate financing, sales and marketing, distribution and manufacturing. Nissan is dedicated to improving the environment under the Nissan Green Program 2010, whose key priorities are reducing CO2 emissions, cutting other emissions and increasing recycling. More information on Nissan in North America and the complete line of Nissan and Infiniti vehicles can be found online at http://www.NissanUSA.com and http://www.infiniti.com.
Media Contacts:
Ann Dee McClane-Bunn
615-458-2896
Amcclane-bunn @ gaylordhotels.com
Kim Keelor
615-458-2877
kkeelor @ gaylordhotels.com
###