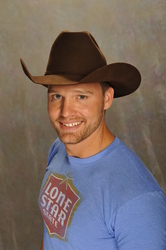 The gay rodeo is very close to my heart and I can't wait to see all my fellow competitors and friends again.
San Francisco, CA (PRWEB) July 31, 2008
Steven Daigle, the immensely popular gay cowboy who appeared on this season of the hit show Big Brother on CBS, will be returning to the rodeo arena at the Best Buck in the Bay -- the San Francisco Bay Area's Gay Rodeo & Festival. The rodeo will take place at the Driscoll Ranches Event Center in La Honda, California the weekend of August 16-17, 2008. Contestants from throughout the United States and Canada will be heading to the Bay Area to compete for buckles and prize money in 13 different rodeo events over the two days. Celebrating 21 years of gay rodeo in the Bay Area, the Best Buck in the Bay is one of the many events comprising the IGRA Rodeo Series. 
  

A past bull riding and steer riding champion in the gay rodeo circuit, Steven Daigle has not been able to compete in over a year due to injuries he suffered while riding a bull in Denver, CO. This year's Best Buck in the Bay will serve as his big comeback on the circuit. Rodeo fans will have an opportunity to see him compete alongside many other great competitors in Bull Riding, Steer Riding, Chute Dogging, and the rodeo's "camp events" including the spectator favorite Wild Drag Race. All the rodeo events run both Saturday and Sunday of rodeo weekend. The competitors receiving the highest combine scores in each event will be awarded championship buckles, ribbons, and prize money at the Awards Ceremony which takes place Sunday evening at the rodeo grounds.
"I'm really excited to be back out competing again," says Steven. "The gay rodeo is very close to my heart and I can't wait to see all my fellow competitors and friends again."
Fans of the television show Big Brother on CBS will recognize Steven as the funny, fun-loving gay cowboy who was the second to be voted out of the house. Despite his early departure, he's found a huge following among the tens of thousands that follow the show both on television and through all the extended coverage online. The exposure provided by the show has significantly raised awareness of the gay rodeo and as a result, it's quite likely that this year's Best Buck in the Bay will see many new spectators and contestants attending the rodeo for the first time.
Nothing could please Steven more, "I'd love to create awareness and encourage everyone to experience gay rodeo. We're one big family and every rodeo is like coming home for Thanksgiving. I've really missed it."
For more information on the Best Buck in the Bay and all of the scheduled events on rodeo weekend, visit BestBuckInTheBay.com or call 415-561-9228.


About The Best Buck in the Bay:
The Best Buck in the Bay is an IGRA Rodeo Series Event produced annually by the Golden State Gay Rodeo Association - Bay Area Chapter. GSGRA-BAC is a 501(c)(3) non-profit organization chartered with educating the LGBT community about the country/western lifestyle through rodeo, dance and royalty. The rodeo and festival will be held August 15 - 17 and provides numerous opportunities for the community to become involved. Proceeds from this year's event benefit GSGRA-BAC's designated beneficiary, Lyon-Martin Womens Health Services.

###