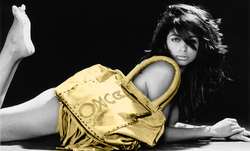 If I feel anything less than glamorous, I won't put it in the collection.
Los Angeles, CA (Vocus) July 31, 2008
Brazilian born model and designer Camila Alves announces the launch of the MUXO handbag collection (http://www.mymuxo.com) with retail partner Kitson LA. The collection will premiere at a private party on August 7th at the exclusive Kitson Studio courtyard in Los Angeles.
Working with her mother and co-designer, Multo Abrigado, Alves captures the attitude of a confident, sophisticated woman in a truly distinctive collection of travel bags, handbags and clutches that meld classic styles with striking exotic elements. Hand crafting each bag themselves using the finest Brazilian leathers and hardware, the mother and daughter team creates a glamorous look that is both elegantly spirited yet casual with a versatility to compliment any look.
Alves emphasizes detail in her new MUXO collection -- using unique elements of stitching, fringe, external pockets and patinas to give each handbag its own attitude. "I only design pieces that I would wear myself," states Alves. "If I feel anything less than glamorous, I won't put it in the collection."
Shortly after the bags debuted on Camila's shoulder, MUXO developed into a small, special order business. The bags, now in high demand, have spurred Alves and her mother to expand the business and offer their one-of-a-kind accessories to exclusive retailers.
Appropriately, MUXO has partnered with Kitson to launch the collection at their exclusive Kitson Studio store in Los Angeles. The event will be a private party for media and special guests. MUXO is proud to be associated with Stand Up To Cancer (http://www.standup2cancer.org) and joins their war on cancer by creating the soon to be released SU2C handbag designed by Alves and her mother. A portion of all sales proceeds of the SU2C handbag will benefit the Stand up To Cancer organization.
Visit the website at http://www.mymuxo.com for more information.
East Coast
Pamela DePalma
DePalma Enterprises
917.533.5881
pamela @ depalma-enterprises.com
West Coast
Lee Everett
Launch Pad PR
310.391.4321
lee @ launchpadpr.com
###