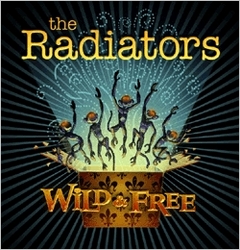 Pasadena, CA (PRWEB) August 5, 2008
Based in New Orleans, The Radiators have been rocking fans across America for decades. Now they are spreading their music around the world with a donation of nearly 3,000 CDs to the troops. Soldiers' Angels will be receiving the donation and including CDs in some of the thousands of care packages it ships overseas each month.
With thirty years together, The Radiators are a rarity in today's music world, a monument to loyalty and teamwork much like that required of American military personnel deployed around the word. Combining rock, blues and funk with their unique style, they are known for extensive improvisation and just plain having fun onstage. Their latest effort is a compilation of their thirty years of rocking, "Wild & Free".
The Radiators continue to celebrate their 30th Anniversary by doing what they do best: hitting the road to showcase Wild & Free, a two-disc compilation that covers all phases of their career (including 2 brand new tracks). The band plans stops in Milwaukee, Chicago, New York, Philadelphia, Baltimore and Las Vegas.
Still consisting of the same 5 original members, Ed Volker (keyboards, vocals), Dave Malone (guitar, vocals), Camile Baudoin (guitar), Reggie Scanlan (bass) & Frank Bua, Jr. (drums) the Rads continue to be road warriors playing over 150 shows yearly. Wild & Free is the first in a planned series of in depth retrospectives. After all, they've been making great music for 30 years and there are a lot of great shows to choose from!
Soldiers' Angels is honored and grateful to assist The Radiators in their efforts to support the troops, and will make The Radiators their Featured Artist for August on the Soldiers' Angels homepage.
For current tours dates and more information about this patriotic band, see http://www.theradiators.org. For all Radiators press and marketing inquiries please contact Jay Rosenberg at 201 615-0847 or jacel @ nj.rr.com.
Soldiers' Angels is a volunteer-based 501(c)(3) non-profit organization with the mission of providing aide and comfort to the men and women of the United States Army, Marines, Navy, Air Force and Coast Guard and their families. For more information, see http://www.soldiersangels.org or call 626-529-5114.
###