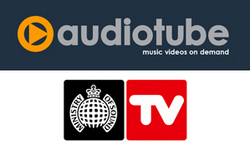 (PRWEB) August 5, 2008
It's only been two months since Audiotube, an online music video promotion community, and Ministry of Sound TV, the world's leading dance music brand, joined forces and the partnership is already creating a cult following among dance fans.
Ever since Audiotube launched its exclusive MoS TV channel in April 2008, visitors to the channel have reached an all time high with thousands of MoS fans regularly logging onto the site to uncover the latest dance anthems and music videos.
Audiotube's Ministry of Sound TV channel not only offers a unique music experience with high quality audio and video clips encoded specifically for the Audiotube platform, but it now also includes a unique music video streaming option.
With Audiotube's Streaming Player music fans can stream through their favourite videos and customise a collection of hot dance music videos to suit their requirements. This new feature has been a huge hit among music fans as members of the Audiotube community can now watch all the latest MOS videos back-to-back, perfect for re-creating that party scene at home.
Dance fans are also sure to love Audiotube's behind the scenes access to MoS music videos, exclusive interviews and footage from the MoS Ibiza party season, all of which have recently become available on the MOS channel.
Due to the successful Audiotube and Ministry of Sound partnership the Audiotube Network has grown to 1.8 million page views and has now amassed over 300K unique visitors per month.
About Audiotube Channels
Audiotube offers its content providers a personally branded channel which is embedded within the Audiotube web 2.0 framework. Visitors enter into the music labels world via this channel where they can check out new artist videos, stream channel videos and purchase the content via a link to the label's store, thus making it even easier to access their favourite music, purchase it and increase brand awareness of that label and their artists.
About Ministry of Sound
Headquartered in London, Ministry of Sound is a global dance music and digital lifestyle entertainment brand delivering content, music and lifestyle products both offline and through multiple digital channels. Since first opening its doors as a London nightclub in 1991, Ministry of Sound has become a truly international brand with offices and clubs worldwide. Ministry of Sound is also the world's largest independent record company.
The company prides itself on pushing digital lifestyle boundaries. On top of its core website destination, which gains 500,000 visits per month, Ministry of Sound has introduced a suite of digital products and assets that encapsulates all new media channels. This includes:

MoSTV, a fully functioning TV channel dedicated to dance music and lifestyle programming, syndicated on various IPTV, Satellite and Cable TV platforms around the world with a global audience of over 1.8 million people
Ministry of Sound Radio, a 24 hour online radio channel, produced and broadcast from its London headquarters and syndicated globally, reaching an audience 465,000.
Voted 'Best Music Label' at the mobile entertainment industry awards 2007, Ministry of Sound is the biggest dance brand on mobile, as a content publisher, aggregator and service provider - with a direct to consumer site and branded portals on T-Mobile, Vodafone and O2.
Ministry of Sound Download is an online music service offering the entire Ministry of Sound and partner label music catalogues, such as Hed Kandi. This has an active user base of 50,000 active users
Ministryofsound.com features a comprehensive dance music news and publishing service, with frequent updates throughout the day, a regular artist/DJ interview at 5pm and live event reporting from key global nightlife destinations including Miami and Ibiza
Ministry of Sound utilizes all available social media and web 2.0 technologies to engage their consumer. From an 80 000 fan opt in community on all major social networking sites, to mobile video and audio blogging, exciting new social connections applications, a bespoke mobile communication toolkit, and specially built widgets which distribute content throughout the web
For more information: http://www.ministryofsound.com
About Audiotube Ltd
Audiotube Ltd was founded in December 2006 as an online video management, promotion and distribution service. Audiotube works with record labels to deliver content to end users and specialises in driving traffic back to the content owners to monetise, assisting them in brand building and market penetration. Audiotube's online platform combines the demand for indie music and online music videos with the universal reach of the internet to satisfy customer demands for high-quality music delivery and community interaction.
For more information, visit http://www.audiotube.com
Maria Maganto - Audiotube.com
+44 207 659 0440
maria(at)audiotube.com
###