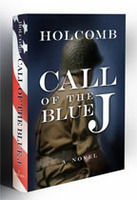 Bainbridge Island, WA (PRWEB) August 4, 2008
Beaver's Pond Press announces the publication of political action thriller "Call of the Blue J" (ISBN 978-1-59298-246-2) by Bainbridge Island attorney and author,
James Byron Holcomb.
It is 2008, and the presidential election is about to take place. Jared Justin Juhl, Jr., known as "4J," is ready to accept his party's nomination for re-election in Indianapolis. Unfortunately, his campaign takes a bad turn when he faces murder charges in Plymouth, Indiana for killing Jennifer Blue, his staff aide during his 1980 Senate Campaign twenty-eight years earlier. DNA test results are the basis for solving this "cold case."
A Constitutional crisis looms between U. S. Marshals and the secret service on 4J's side, preventing his arrest for perceived political motivations, and local law enforcement on the other side, intent on arresting him. Both sides are empowered to arrest the other side's members under the jurisdiction of each. Which side prevails in this crisis? Will 4J be found guilty of murder with his DNA found at the scene?
"Call of the Blue J" is a must-read for those seeking an inside view of our criminal justice system involving high profile suspects and the power of DNA. The story line is superbly crafted, taking you through a labyrinth of possible clues and suspects, leading to a climactic end that will keep you on the edge of your seat." -- Raymond Davis, forensic scientist
ABOUT THE AUTHOR:
James Byron Holcomb is a "back country" lawyer in Washington State. He comes out of the woods to represent military members and federal employees all over the world, having been in thirty-three foreign countries, and has done so successfully for forty-five years. He frequently argues cases involving the U.S. Constitution. Mr. Holcomb has a Masters from Wharton School University of Pennsylvania, and law degree from the University of Washington. He is a retired Naval officer. Holcomb is a frequent contributor to major newspapers and advises three newspapers and three television channels as background for military matters. He currently lives in Bainbridge Island, Washington. He is married, has four children, and five grandchildren.
"Call of the Blue J" by James Byron Holcomb, from Beavers Pond Press, Edina, MN, ISBN 978-1-59298-246-2, retails for $24 and is available September 2, 2008 from Ingram or our distributor BookHouse Fulfillment: 800-901-3480. To receive a review copy, press kit or to schedule an interview with the author, please visit http://www.callofthebluej.com
###