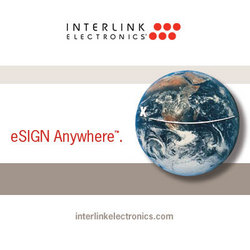 Without our technology, the advisors are forced to print an electronic form in order to capture a wet-ink signature. Maintaining a straight-through process significantly increases productivity and reduces costs.
Camarillo and Ontario, CA (PRWEB) August 5, 2008
Interlink Electronics, Inc. and LaserApp Software announce today another joint customer--Princor Financial Services Corporation, a member of the Principal Financial Group®. The Princor® forms, found in LaserApp's library, are now esignature-enabled with Interlink's IntegriSign software. Representatives who are equipped with an Interlink ePad handwritten electronic signature capture device can now securely capture their clients' esignature and benefit from a more efficient and cost-effective application process.
"Many broker-dealers who are currently using LaserApp are looking to Interlink's electronic signature solution to eliminate the need to go out-to-paper," explains Rod Vesling, Senior Vice President and Officer for eTransactions at Interlink. "Without our technology, the advisors are forced to print an electronic form in order to capture a wet-ink signature. Maintaining a straight-through process significantly increases productivity and reduces costs."
According to Princor, their representatives will greatly benefit from the combined LaserApp and Interlink solution.
"By making it easier to do business, we fully expect to see sales increase," said Marty Richardson, vice president, Broker Dealer Operations- Princor Financial Services Corp. "We are empowering our representatives with the tools they need to be more efficient and focus on driving business versus managing paper."
eSignature Functionality
With the use of the IntegriSign Software Developer Kit (SDK), Laser App can esignature-enable their library of financial and broker-dealer forms. Once the signature is securely transferred from the ePad, IntegriSign encrypts and permanently embeds the signature in the document, along with other signature data such as date and time.
About the Principal Financial Group
The Principal Financial Group® (The Principal®) is a leader in offering businesses, individuals and institutional clients a wide range of financial products and services, including retirement and investment services, life and health insurance, and banking through its diverse family of financial services companies. A member of the Fortune 500, the Principal Financial Group has $304.2 billion in assets under management and serves some 18.8 million customers worldwide from offices in Asia, Australia, Europe, Latin America and the United States. Principal Financial Group, Inc. is traded on the New York Stock Exchange under the ticker symbol PFG. For more information, visit http://www.principal.com.
About Interlink Electronics Inc.
Interlink Electronics, Inc. [OTC:LINK.PK] provides the financial services industry as well as the healthcare and government sectors with the electronic signature platform needed to eliminate paper from critical business processes. Interlink's complete solution, which includes esignature software, hardware, and services, allows organizations to implement end-to-end electronic processes no matter where the signing takes place: in-branch, in-the-field, online, or mobile. Interlink Electronics is also known for its family of MicroNav products, powered by the company's patented Force Sensing Resistor (FSR) technology and integrated in handheld consumer electronics devices. Headquartered in Camarillo, California, Interlink Electronics, Inc. also has offices in Japan, Hong Kong, and China.
About LaserApp Software
Laser App Software, Inc. is the financial industry standard in form filling software. Laser App pioneered the technology of forms filling software in the financial industry in 1996, and has remained the industry leader ever since. Today Laser App provides services to over 280 broker-dealers and 240 product carriers. The relationships Laser App has developed over the past 13 years have been the key to our ability to maintain our current library of forms and subsequently the key to our success.
http://www.laserapp.com
For additional information, please contact:
Nathalie Benoit
Interlink Electronics
805-279-2750
(nbenoit @ interlinkelec.com)
Robert Powell
Laser App Software
(800) 985-2174 ext 102
(robert @ laserapp.com)
Marty Richardson
Princor Financial Services
515-247-8523
(Richardson.Marty @ principal.com)
All registrations and trademarks are properties of their respective owners. IntegriSign is a registered trademark of Interlink Electronics, inc. This release contains forward-looking statements that involve a number of risks and uncertainties. The following are among the factors that could cause actual results to differ materially from the forward-looking statements: business conditions and growth in the electronics industry and general economies, both domestic and international; lower than expected customer orders; delays in receipt of orders or cancellation of orders; competitive factors, including increased competition, new product offerings by competitors and price pressures; the availability of third party parts and supplies at reasonable prices; changes in product mix; significant quarterly performance fluctuations due to the receipt of a significant portion of customer orders and product shipments in the last month of each quarter; problems or delays in reporting our results of operations to the public; and product shipment interruptions due to manufacturing problems. The forward-looking statements contained in this document regarding industry and review trends, industry product and technology acceptance, product mix and future business activities should be considered in light of these factors.
#6738072010
1. "The Principal Financial Group" and "The Principal" are registered service marks of Principal Financial Services, Inc., a member of the Principal Financial Group.
2. As of March 31, 2008
# # #