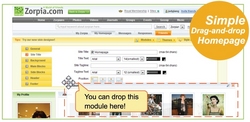 We recently unveiled a line of new features to our 11 million members. By adding greater precision tools to customize their personal space on the web, the new homepage customization tools are simply hands down better than any other social networking sites in different aspects, including ease of use and robustness
Hong Kong (PRWEB) August 1, 2008
Zorpia, dubbed as the biggest international social networking sites you probably have never heard of, has just unveiled a new version to its 11 million members called Zorpia 2.0. With a design overhaul and exciting features, its members have already expressed immense positive feedbacks during the beta release.
"We recently unveiled a line of new features to our 11 million members. By adding greater precision tools to customize their personal space on the web, the new homepage customization tools are simply hands down better than any other social networking sites in different aspects, including ease of use and robustness," says Jeffrey Ng, CEO of Zorpia.com.
Zorpia 2.0 is designed to help members customize their homepage, and see the changes in real time as they make them. With the new 'Drag and Drop' style features and dynamic customization tools, Zorpia members have exact control over the layout of their homepages.
"For example, by adding the 'Drag and Drop' feature, members who want to put their photo albums at the top of their page, can just drag the albums with their mouse to where they want. Then visitors to their pages will see the photo albums at exactly where they are intended. You no longer have to be an HTML wizard to make things look great!" explained Ng.
Furthermore, along with choices of pre-customized homepage themes, members can make their own themes. Reverting to their old themes is just a simple click.
With the new look of Zorpia 2 and a more streamlined user interface, Ng expects the user base to expand exponentially.
"The revamped homepage designing tools allow members' personality to be shine through Zorpia pages, making it easier for members to make new friends. In addition, the whole navigation system of Zorpia has been re-designed and streamlined. It's now much easier to keep members up to date on their friends' activities. Our research shows that Zorpia 2.0 triggers more frequent interactions within the site. With more than 10,000 new members signing up every day already, I am confident Zorpia 2.0 will further fuel our user base growth."
About Zorpia:
Zorpia is a social networking website. It currently has over 11 million members; 27 million photos stored. It provides a community setting for members to make new friends, share unlimited photos, post journals and forum entries, listen to music, share videos, and customize personal profiles and skins. Their membership demographic is largely based in the United States, but also has a good global spread. It is similar to myspace, flickr, friendster, facebook, hi5, xanga and tribe.net.
If you would like more information about this topic, or to schedule an interview with Mr. Jeffrey Ng, please email: press @ zorpia.com or hope.taylor @ zorpia.com
Reference URL's:
Zorpia Homepage: http://www.zorpia.com
About Us: http://www.zorpia.com/info/about_us
Z2 Preview: http://www.zorpia.com/file/switch_to_z2.html
###