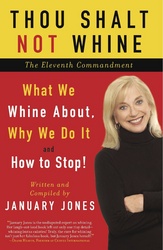 January Jones is nicer than Dr. Laura and prettier than Dr. Phil!
Los Angeles, CA. (PRWEB) August 4, 2008
January Jones, author of Thou Shalt Not Whine…The Eleventh Commandment published by Beaufort Books has been selected to be a contestant in The World Series of Golf on CBS Sports sponsored by The FullTilt Poker.net.
Ms. Jones will be competing for prize money with 125 contestants who will be playing golf in a Texas Hold'Em format in Las Vegas on May 11-13, 2009. Her husband entered them both in this golf contest and January was the one who got picked to play reality golf on national television. Can she play golf or poker? Of course, she can! Is she any good? Absolutely, not! The good news is that her husband will be her official caddy and financial adviser. For the record, being a reality TV golfer or gambler has never, ever been on January's personal bucket list. However, Thou Shalt Not Whine about Golf will be her next publication.
January Jones is the self-proclaimed Whine Tester. She is an expert Whine-ologist and a reformed whiner who lives every day in the No Whine Zone. Her newest book is based on a survey of the top ten things that people of all ages and stages of life whine about. She deals with all the complaints, causes and cures with humor and hope. Her book has over 100 cures for whining that are solutions to the current epidemic of "whining about whining" taking place in our country.
"January Jones is nicer than Dr. Laura and prettier than Dr. Phil!"
Joe Sidoni, author of 50 Reasons Not To Have Kids
What makes January such an expert on whining?" She is a golfer, a woman, a wife of 38 years, a mother with four average kids and grandmother of six amazingly perfect grandchildren. January was a widow at 25 years with two small children so she knows a little about whining and a lot about winning.
"January Jones is the undisputed expert on whining. Her laugh-out-loud book left out only one tiny detail - whining burn calories! Truly, the cure for whining isn't just her fabulous book, but January Jones herself."
Diane Heavin, Founder of Curves International
January hosts The Whine Tester weekly internet radio show on BigMediaUSA.com. doing interviews with celebrities such as Kim Goldman and Curtis Stone, The Take Home Chef on TLC, along with major businesses such as Curves, Honda and Hershey Resorts. Ms. Jones has become a chocolate expert interviewing Hershys, M&Ms, Amber Lyn, Downey's Gourmet Chocolates along with renowned expert John Scharffenberger.
January Jones specializes in homemaker humor in the revered tradition of Erma Bombeck. She is a popular radio and national television guest appearing on Everyday with Marcus and Lisa in Atlanta at Family Net Work Television on Monday, August 25, 2008.
Thou Shalt Not Whine by January Jones will be launched by Beaufort Books on September 3, 2008. The Whine Tester Blog is posted at http://www.januaryjones.com.
For additional information please contact January Jones at info(at)januaryjoines.com
###