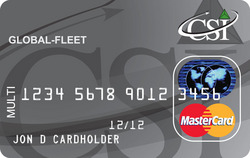 Fleet managers can monitor card usage online and in real-time and also make immediate necessary adjustments on everything from monetary limits to types of purchases allowed
Bonita Springs, FL (PRWEB) August 1, 2008
The CSI Universal Fleet Fuel Card announces more savings opportunities for fleet businesses of all sizes by adding more merchants to their already-impressive CSI Fuel Discount Network. Now with more than 25,000 participating retail gas stations as well as truck stops and travel centers, the CSI Fuel Discount Network is considered one of the largest and most comprehensive immediate savings opportunities available to fleets.
"We are constantly working to create as many savings opportunities as possible," explained Keith Stone, CSI President. "The CSI Fuel Discount Network is one way our clientele can enjoy immediate savings at the pump, anywhere from one to five cents a gallon. For fleet businesses buying fuel every day, that adds up to significant savings."
"We have made identification of discount locations and low cost fuel merchants as easy as possible by using the CSI Smart Buy low-price locator," Stone said. Fuel prices can fluctuate as much as ten-to-fifteen cents a gallon or more between stations in the same zip code and Smart Buy locates the lowest price stations available as well as identify participating discount locations.
The CSI Discount Network and Smart Buy low-price locator are but two of the valuable savings tools dedicated to the CSI Universal Fleet Fuel Card. Fleet Businesses can save up to 15% or more when implementing the immediate savings features in conjunction with CSI's superior comprehensive card controls and security features.
"Fleet managers can monitor card usage online and in real-time and also make immediate necessary adjustments on everything from monetary limits to types of purchases allowed," Stone said. "By taking advantage of what the CSI Fleet Fuel Card offers, businesses are assured that fuel policy and fleet fuel management is most effectively administered"
To learn more, request a listing of discount locations in your area, and apply for CSI Universal Fleet Fuel Card, visit Fleet businesses - SAVE when using the CSI Universal Fleet Fuel Card.
About CSI Enterprises, Inc.
CSI Enterprises Inc. provides a specific line of controlled financial payment products including business fleet fueling/maintenance payment cards, a corporate virtual payment MasterCard® and card solutions for corporate purchasing, travel and entertainment spending. Today CSI and its products operate in all fifty states including Canada, Mexico and Caribbean with operating subsidiaries involved in municipal tax reclamation, venture capital and real estate development activities nationwide. Since 1988, CSI Enterprises Inc. was the first and largest U.S. organization to have a successful corporate asset management and payment network throughout the U.S. and Latin America. CSI MasterCard Corporate Fleet Card is issued by Regions® Bank. 
MasterCard is a registered trademark of MasterCard International, Incorporated.
###