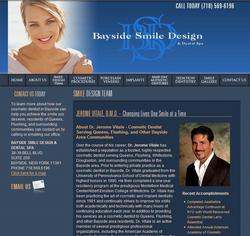 They always seem pleased once they realize they have come to the right place
Queens, New York (Vocus) August 1, 2008 –
Thanks to Queens New York dentist, Dr. Jerome Vitale, patients no longer have to dread a trip to the dentist. Under his direction, Bayside Smile Design and Dental Spa has combined state-of-the-art dental technology with a spa inspired atmosphere to create the ultimate dental experience for patients wishing to enhance their smile and feel pampered at the same time. This new approach to the "whole" dental experience aims to create an environment that takes the stress and the stigma out of "going to the dentist," making it possible for everyone to obtain the smile that they desire.
As a sustaining member of the prestigious American Academy of Cosmetic Dentistry, Dr. Vitale is uniquely qualified to perform even the most challenging smile enhancement procedures. With a passion for providing exceptional patient care, he envisioned a relaxing dental experience for patients while still having access to the most advanced dental techniques offered today; good news for his Queens,New York cosmetic dentistry patients who no longer need to travel to Manhattan for high-end dental care.
Patients are wrapped in comfort as they experience a new, relaxing feel when they walk through the door. The traditional smell of the dental office is replaced by the soothing fragrance of fresh flowers and candles. Other amenities include dental massage chairs, a refreshment bar filled with gourmet beverages, warm blankets, and even a concierge service for out of town patients. Dr. Vitale recalls the day when one of his patients entered the office and immediately walked back out and checked the address on the door. "They always seem pleased once they realize they have come to the right place".
Dr. Vitale has assembled a savvy dental team that is ready to help patients achieve their ultimate smile. A customized treatment plan is designed using digital x-rays, advanced digital imaging, and molds that the patients can "try on", taking any guess work out of the their vision for the ultimate smile. Dr. Vitale and his staff have mastered how to offer its patients the services they want. The two-visit smile makeover can whiten, straighten, and lengthen teeth giving patients a "light up the room" smile with minimal time investment. Bayside Smile Design & Dental Spa also offers teeth whitening and proudly features the advanced Zoom!™ teeth whitening system, dental implants, and porcelain dental veneers to its New York patients.
It is clear that the traditional approach to smile makeovers is gone. Dental patients now have the option to look forward to visits to the dentist. Bayside Smile Design & Dental Spa has created a whole new experience for patients that want to boost their confidence with a new smile. The only way patients know they were at the dentist is when they look in the mirror and see the smile they always wanted but never thought possible.
Dental Spa Testimonials:
" I used to dread going to the dentist. The mere thought of returning for multiple visits to get the smile I wanted seemed unbearable. I am so glad I called Bayside Dental Spa because now I have the smile I always wanted. I actually looked forward to going back to complete my smile makeover."
Bayside Smile Design and Dental Spa are celebrating their 5th year in practice, located in beautiful Bayside, bringing the best dental spa Queens New York has to offer. For more information on the services offered, visit http://www.baysidedentalspa.com or call (718)569-6196.
###