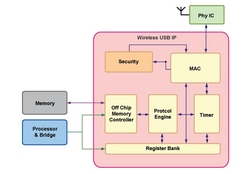 The demand for WUSB based products will soon increase exponentially. Wireless USB will be the most preferred choice for all vendors in next 1-2 years who currently support wired USB interfaces for their products. The migration from wired USB to wireless USB will be seamless since it will be pretty much cutting the wires and replace them with RF antennas on both sides
Santa Clara, CA (PRWEB) August 3, 2008
Innovative Logic Inc. (Inno-Logic), leading provider of reusable standard based Intellectual Property (IP) and ASIC/FPGA design and verification services, announced today the full release of Wireless USB Device Controller IP. Inno-Logic's WUSB IP offering includes implementation IP as well as verification IP by making use of industry standard latest tools and methodologies. The implementation IP is fully compliant to RMM guidelines, which will ensure smooth migration from one technology to another. Some of the key features of Inno-Logic's WUSB IP are:

Fully compliant with wireless USB 1.0 specification.
Fully compliant with ECMA 369/368 UWB Phy-MAC interface specification.
Support all transfer types - Control, Bulk, Isochronous and Interrupt transfers.
Up to 7 endpoints. Endpoint 0 is for control transfer and rest are for data transfers.
Supports industry standard 32 bit bus interface - AMBA AHB/AXI or AVLON etc.
Supports power saving features like sleep mode.
"The demand for WUSB based products will soon increase exponentially. Wireless USB will be the most preferred choice for all vendors in next 1-2 years who currently support wired USB interfaces for their products. The migration from wired USB to wireless USB will be seamless since it will be pretty much cutting the wires and replace them with RF antennas on both sides" said Dinesh Tyagi, President & CEO.
"This IP is the result of excellent team work, making use of the latest verification methodologies, and strict use of RMM guidelines. After spending months and months verifying this IP, we feel extremely confident about the quality of this IP" said Aravinda Holla, Team Leader for WUSB product Line.
WUSB can make many products much simpler to connect without using wires. Typical WUSB based applications are Desktop & Notbook PCs, WUSB dongles, digital cameras, HD camcorder, portable media players, wireless HDTV display, etc.
WUSB is currently available for licensing worldwide. The IP will be delivered in multiple formats such as synthesizable RTL netlist, synthesized gate level netlist, FPGA program file, etc.
For details about licensing WUSB IP, please contact our nearest Design Center. For details, visit our website at Innovative Logic Inc.
About Innovative Logic Inc.
Innovative Logic is the leading provider of reusable standard based IP solutions as well as high quality and reliable design services in ASIC, FPGA, and Embedded Systems Design. Innovative Logic has a world class team of engineers who have successfully executed different projects using the latest tools and the technologies.
###