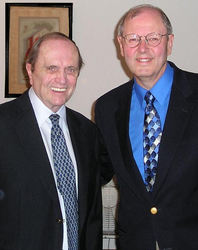 I'm happy for the winners
Los Angeles, CA (PRWEB) August 3, 2008
Bob Newhart, winner of three Grammy Awards, a Peabody, an Emmy and the Mark Twain Prize for Humor, and author of his new show-business autobiography, I Shouldn't Even Be Doing This, making him perhaps the most celebrated comedian-humorist-actor-author-former accountant in show-business history, this summer took time away from his busy schedule to serve as finalist judge, for the 2008 winner of the Robert Benchley Society Award for Humor. Newhart chose, as first-place winner, New York City-based humor columnist, satirist, Madeleine Begun Kane.
In a personal note Newhart told Kane her essay, "Guide for The Opera Impaired," finished first because it was "the most Benchleyesque. . . "I don't know if Robert Benchley ever commented on operas in his writings, but it is certainly a subject I suspect he would have handled exactly as you did," Newhart said.
Newhart enjoyed judging the essays, "It certainly brought back the memories of when I first started reading Robert Benchley and the joy his writing brought," Newhart said, but, "the judging was difficult because the finalists were so good."
Newhart has always credited Benchley as a major influence on his humor. In an earlier interview with past Robert Benchley Society award winner Horace J. Digby on A3Radio Newhart said, "Really good writing is timeless. Benchley created--like the persona Jack Benny created--a man who was very much full of himself, but in a self-deprecating way."
In his book, I Shouldn't Even Be Doing This, Newhart tells readers, "My influences came from the more absurdist side of life. I've never forgotten the time I heard that a lady in Britain published her correspondence with Winston Churchill, so Robert Benchley decided to publish his correspondence with George Bernard Shaw. Benchley's correspondence consisted of letters accusing Shaw of taking his umbrella at the theater and asking for it to be returned. Shaw kept writing back saying, 'I don't know who you are and I don't have your umbrella.'"
In a recent letter Newhart told Digby, "Larry Gilbert, writer on Your Show of Shows, A Funny Thing Happened on The Way to The Forum and others too numerous to remember, once wrote, the comedy writer (and comedian) sees the world through a different lens. There is no question in my mind that Benchley helped construct the comedic lens through which I view the world. I think his [Benchley's] influence is certainly discernable in 'Abe Lincoln' and 'King Kong.'"
"I was a voracious reader of the works of Robert Benchley," Newhart wrote in I Shouldn't Be Doing This, "and at least on a subconscious level, one of Benchley's essays influenced me to go to law school. It was about a Walter Mitty-type character who . . . made an absolute fool out of the opposing counsel to the point where the jury was applauding and even the judge was enjoying the show."
Fortunately for the world of humor Benchley's "more absurdist" influence on Newhart won out.
Kane's essays have appeared in Family Circle, America Online, Newsday, The Chicago Tribune, The Philadelphia Inquirer, The Miami Herald,, The Houston Chronicle, The New York Times, The L. A. Times Syndicate, Knight-Rider/Tribune News Service, and on National Public Radio. She bills herself, as "Mad" Kane, political satirist, parodist and recovering lawyer. Kane holds a law degree from St. John's University School of Law and a Bachelors of Fine Arts in music from the California Institute of the Arts. Her musical talent lead to a faculty position in the Music department of Southern Methodist University, Dallas,Texas, and an oboist chair in the Dallas Symphony.
In 1995 Kane's humor was honored by the National Society of Newspaper Columnists, and her website, madkane.com, has received accolades from USA Today, Shift Magazine, Maxim Magazine, The Guardian and other media.
On learning Newhart had ranked her essay first, Kane was uncharacteristically at a loss for words, saying only, "Yikes! I can't believe it! Thanks! . . . I'm still in shock . . ."
Kane had celebrated being named a finalist by writing:
"I can barely maintain my sobriety
Cuz the great Robert Benchley Society
Held a contest and wow,
I'm a finalist now.
Will I win the top prize? High anxiety!"
Remembering that limerick, she added, "Now that I've actually won first prize, I'm thrilled and honored, but being Jewish, I'm still anxious."
The second, third and fourth place finalists selected by Newhart to receive the Robert Benchley Society Medal of Merit for 2008 are: Mike Tuck of Hopkins, MN, in second place for his essay, "Welcome To America;" Jesse Levy of North Hollywood, CA, in third place for, "How to Watch a Sad Movie and Retain Your Manliness;" and Denise G. Weeks of Richardson, TX, in fourth place for "How to Start Your Own Band." The winning essays can be viewed at The Robert Benchley Society Website.
Denise Weeks (a.k.a. Shalanna Collins) a home-grown Texas humorist, novelist, pianist, belly dancer, baton twirler, software engineer, National Merit Scholar, and graduate of Southern Methodist University, is also a true Robert Benchley lover. One of her hobbies is collecting Robert Benchley first editions.
Weeks' husband first advised her not to get too excited about "this contest thing." But when he learned Bob Newhart was reading her essay, hubby quickly forgot his own advice. Weeks' reaction to placing in the top four was, "Aaaaa . . . I believe a 'Yay!' is in order now!'
"Hooray! Thank you so much (and many thanks to Mr. Newhart)," said third-place winner, Jesse Levy, a New York City transplant to Los Angeles. "I am thrilled beyond words," he continued. "In fact, right now I'm making sounds to express my thrilledness but they can't be conveyed in an email without doing some small damage to the keyboard."
Levy keenly appreciates that, "Essays are tough, especially at 500 words. I wrote my entry in a Benchleyesq frenzy. I was reading a lot of Sweet Old Bob at the time and the influence shows. Benchley has always been my favorite humorist."
Levy said he was "absolutely thrilled" just to learn that Bob Newhart was going to be reading his entry. "To go from being an accountant to being a stand-up comic has always been a dream of mine," Levy said, in homage to Newhart's early career. Then, after reflecting for a moment on his own career which includes filmmaker, actor, radio disk jockey, writer, director and humorist, Levy added, "I guess I'd better start hitting those accounting books."
Mike Tuck, of Hopkins, MN, had this to say about being first runner-up, "Thanks for the wonderful news. I assume this means I get my $10 entry fee back."
Tuck first read Robert Benchley 30 years ago and immediately realized he'd found his favorite author. Even today "All who value humor look up to Robert Benchley and wonder, 'How the hell does he make it look so easy?' . . . For this Benchley aficionado it's a bit numbing having my name linked with his," Tuck said.
Tuck began writing humor as a young man growing up in Minneapolis when he started selling a few jokes and gags, soon earning a tidy sum of $30 a week, "and this is back when $30 a week was like $20 a week," Tuck said.
"Knowing Bob Newhart actually read something I wrote (even if he barely got through the first paragraph before crumpling and tossing it) is intimidating. I have grown up with Newhart's albums, stand-up, movies and television to understand and appreciate what a brilliant humorist he is," Tuck said. "This would be the highlight of my career if I had one," Tuck said.
Robert Benchley rose to fame in the 1920s writing for Harvard Lampoon, The New Yorker, Vanity Fair, Life magazine and as humor columnist for the Hearst newspaper chain. Benchley appeared in more than eighty short films and feature length motion pictures. He is credited, along with Dorothy Parker, with founding the notorious Algonquin Round Table.
Benchley and his colleagues, all members of the famed Algonquin Round Table luncheon group, dominated print media for nearly two decades, creating a new face for American humor.
Many of America's brightest comic talents including, this year's finalist judge Bob Newhart, Dave Barry, Woody Allen, Steve Martin, Erma Bombeck, Shelly Berman, Jonathan Winters, Richard Pryor, Steve Allen, Russell Baker and Dan Rowan acknowledged Benchley's impact on their work,
"The book that most impressed me when I was growing up and influenced my approach to comedy would have been any book by Robert Benchley, or specifically My Ten Years in a Quandary," Newhart said. "I was very much influenced by Robert Benchley."
Benchley's warm, self-effacing comic writing style made it nearly the template for modern humor essays, said humor writer Ed Tasca. Tasca holds the singular distinction of placing among the top four Robert Benchley Society entries for three consecutive years.
Other finalists in 2008 are, in alphabetical order, Cornelius "Con" Chapman of Weston, MA, Eileen Mitchell of Palatine, IL, Joseph Nebus of Jackson, NJ, Brenda Pontiff of Los Angeles, CA, John Thom of Los Angeles, CA, and Sharon Elizabeth Wood of Cary, NC.
The Robert Benchley Society Award for Humor competition is open to amateurs and professionals alike. W. Bruce Cameron, whose book Eight Simple Rules for Dating My Teenage Daughter inspired John Ritter's Emmy Award winning television series for ABC/Disney, and who's newest book, Eight Simple Rules for Marrying My Daughter, is now in book stores everywhere, took top Benchley Society Award honors in 2006. Last year's top award went to Daniel Montville of Oak Park, Illinois for his hilarious essay, How to Write a Book.
"All entries are read blind, so neither Bob Newhart, nor any of the preliminary judges
knew who wrote any of the essays. That way the competition is entirely merit based," said 2005 Robert Benchley Society Award winner Horace J. Digby, who has returned to help with judging in the past three years.
This year's preliminary judges include, Benchley Society member Dwain Buck, 2005 Benchley Society award winner Horace J. Digby, author of Robert Benchley An Annotated Bibliography Gordon E. Ernst, writer Eileen Forster Keck, puzzle designer Chris Morgan, radio personality Tom Saunders, and Robert Benchley Society chairperson David Trumbull.
"I'm happy for the winners," said finalist Brenda Pontiff, "but darn! I will enter again next year and see if I make the top ten one more time. I'll be the poor man's Ed Tasca - he placed 3 times, maybe I can get on the top ten list 3 times."
David Trumbull, the Robert Benchley Society's national chairperson, joined in Newhart's sentiments. "I believe Mr. Benchley would be pleased to see how this year's contestants are keeping alive his tradition of warm, genial, witty humor," Trumbull said.
"I hope future judges are as lucky as I was in the quality of their finalists," Newhart concluded.
You can learn more about Bob Newhart, this year's Robert Benchley Society Award for Humor, the winners and the Robert Benchley Society humor writing competition by visiting Horace J. Digby's official website lexingtonfilm.com
###