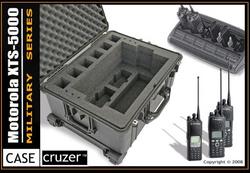 Montclair, CA (PRWEB) August 5, 2008
CaseCruzer recently introduced a new Pelican Case making logistical support and communication equipment more time efficient and convenient. The hand held Motorola XTS 5000 6-pack case unit provides the military and civilian first responders ultimate protection in tough, inhospitable terrain.
The new Motorola XTS-5000 shines in demanding times. Its exceptional portability makes it the go-to luggage for state and federal agencies that consider the XTS 5000 radio standard issue for critical communications.
Supply and logistics personnel who purchase equipment for combat and medical units save time and money with the Motorola XTS-5000, eliminating the nuisance of inferior construction and complaints from field commanders.
Since mobility is mandatory, the Motorola carrying case is equipped with comfortable rubber over-molded top and side handles and an extendable handle with exterior mounted urethane wheels. Access is smooth with easy-to-open double-throw latches.
The portable case accommodates six radios, six batteries, and a six-bay charger. The custom-fit interior simplifies two critical phases of engagement:

Deployment: Cases with custom fit interiors speed mobilization because personnel can quickly take inventory of required equipment.
Demobilization: Easy to account for return of all issued equipment, which can quickly be repackaged for shipment to the next mission. Missing gear is identified in seconds due to the signature shape of empty interior cutouts.
The open cell core with solid wall case design makes the CaseCruzer Motorola XTS-5000 6-pack rugged but light, ideal for logistical support equipment. The compact outer dimensions are 22.06" L x 17.93" W x 10.43" H. The case weighs 21 lbs.
The Motorola XTS-5000 6-pack reports for duty armed with the renowned Pelican characteristics. It is suitable for land, sea or air logistics: Military approved spec-4150J and STANAG 4280; Airline safe ATA 300; extreme weather, -10 to 210 F; dust and sand-proof IP67 rating; and watertight, with neoprene o-ring seal and automatic purge valve with Gore-Tex®. Also, the metal reinforced padlock protectors provide extra strength and security against cutting and theft. Finally, the Pelican cases are backed by their famous unconditional lifetime warranty.
The Motorola XTS 5000 is one of the industry's toughest and most advanced digital portable radios. This two-way device guarantees high-quality and clear communication even in the most unpredictable environments from over-crowded urban settings to remote rural areas. "Unpredictable" is the operative word. Critical- mission personnel - for military, police, transportation and medical units - recognize the danger they face and dare not leave communications equipment poorly protected.
First responders who require a rugged carrying case solution look to Pelican for quality. But wisdom knows the golden hour is reserved for CaseCruzer - always above and beyond the call of duty.
The CaseCruzer network of companies provides the community with the most comprehensive packaging solutions available on reusable carrying cases for applications such as communications, photography, computers, electronics, weapons, medical, transportation and other industrial shipping and carrying case uses. For more info about the new Pelican case, visit http://www.casecruzer.com; call 800-882-4730 in the U.S. or 909-613-1999 internationally; fax 909-465-5598; or write to CaseCruzer at 4665 State Street, Montclair, CA 91763.
Contact:
Tatiana Briceno
1800 882-4730
pr @ cpd-industries.com
###