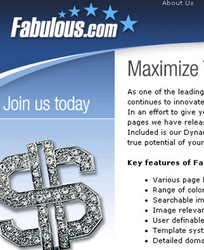 With Fabulous joining the exclusive companies who partner with NameJet, we continue to expand the breadth of solutions for customers who are attempting to acquire the domain name registration rights
Bellevue, WA (PRWEB) August 4, 2008 -
NameJet™, a leading domain auction company that offers a large, exclusive inventory of deleted and expired domain names for top registrars, announces today, the company will enter into an exclusive partnership to sell expired domains registered with Fabulous.com. Through this deal, Fabulous.com will join the list of registrars offering expired domain names for sale at auction exclusively through NameJet.
Both companies will benefit from the exclusive expired domain name partnership. NameJet's large customer base of bidders and its proven track record to auction names will offer Fabulous.com an additional revenue opportunity. Fabulous.com offers NameJet a quality inventory of expired names and another well-known brand in the domain industry to its list of exceptional partners.
"With Fabulous joining the exclusive companies who partner with NameJet, we continue to expand the breadth of solutions for customers who are attempting to acquire the domain name registration rights," said Steve Brown, General Manager of NameJet. "We are excited to have Fabulous.com as a partner with NameJet™ and our award-winning technology."
NameJet's auction services include domain names on top registrars' lists of expired "Pre-Release" domains, the ability to place backorder requests on any domain name including currently registered domain names, a "last minute board" that allows customers to closely watch an ending auction, and access to expired .com, .net, .org, .biz, and .info top level domains as well as special listed domains through an online search or downloadable lists.
Dan Warner, the CSO/COO of Fabulous, added, "We chose to partner with NameJet due to the high value and quality of domains they auction. The expired domain names from the Fabulous.com inventory will only increase NameJet's profile and cement their high position even further."
For more information about domain names for sale, or the new arrangement, visit NameJet.com or Fabulous.com.
About NameJet:
NameJet is a leading domain name backorder service and auction marketplace. NameJet allows those trying to acquire registration rights to domain names the ability to participate in auctions for domain names when they expire or are deleted by the registry. NameJet derives its inventory from the leading domain name registrars including Network Solutions®, eNom® and BulkRegister®. In addition to auctions, users can also place backorder requests on currently registered domain names. NameJet employs award-winning technology to power their easy to use Web site, which allows clients to participate in auctions and manage backorder requests.
About Fabulous:
Fabulous.com is operated by the Australian listed company, Dark Blue Sea Ltd. DBS owns more than 500,000 high quality, commercially focused, generic keyword domain names (web sites).The DBS suite of products includes Fabulous.com (an ICANN accredited domain name registrar), the Domain Distribution Network (aftermarket domain distribution and fulfillment services), DarkBlue.com (online advertising affiliate network) and Roar.com/PageSeeker.com (online advertising portals) which combine to provide a fully integrated internet marketing platform. Dark Blue Sea® is listed on the Australian Stock Exchange (code: DBS) and has a Level 1 over-the-counter ADR program through the Bank of New York (code: DKBLY). For more information, visit NameJet.com and http://www.DarkBlueSea.com.
###