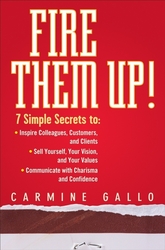 Fire Them Up is a must-read for anyone who wants to motivate others.
San Francisco, CA (PRWEB) August 4, 2008
In his new book, Fire Them Up!, communication and presentation skills coach, Carmine Gallo, reveals the 7 keys to selling yourself, your vision and your values through extraordinary public speaking and presentation techniques shared by the world's most inspiring leaders. According to The Ritz-Carlton President, Simon Cooper, "Fire Them Up is a must-read for anyone who wants to motivate others."
Gallo was recently invited on CNBC's The Big Idea to share his insights with host, Donny Deutsch. Here are the seven qualities that will help you walk, talk, and look like a leader people will want to follow.
1. Ignite Your Enthusiasm. "You cannot inspire unless you're inspired yourself," says Gallo. It starts with passion. But how do you find your passion? Here's a hint. It's not about "the widget," but how the widget--your product or service--will improve the lives of your customers.
2. Make Vision, Not Mission. A mission statement is a long, convoluted paragraph destined to be tucked into a drawer somewhere and forgotten. A vision is a one-line description of a better future made possible by your service or product. The most persuasive visions are ten words or less.
3. Exude Command Presence. Talk and walk like a leader by making eye contact 90 percent of the time in a business setting or presentation, by maintaining an "open posture" (avoid crossing your arms, etc) and by using hand gestures. Research shows that complex thinkers use complex gestures.
4. Sell the Benefit. To get what you want, put your listeners first. Remember, it's not about you, it's about them. Your listeners are asking themselves, "Why do I care?" Answer the question. Don't leave them guessing.
5. Connect with Stories. Tell personal stories to grab your listeners' attention and to make the message relevant to their lives. Have a personal story ready to share in any conversation in which persuasion and motivation is the goal.
6. Be a Beacon of Hope. Colin Powell once said that optimism was the secret behind President Ronald Reagan's charisma. Don't sound discouraged and disillusioned. Acknowledge challenges but end your conversation with reasons for hope. Remember, moods are contagious. Radiate optimism.
7. Fill Emotional Tanks. People are hungry for local fame. In other words, they want to be praised and recognized in front of their peers. Give the people around you their "15 minutes" and watch your influence soar!
###