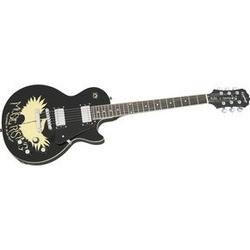 Music Rising - Instruments for the Gulf Coast.
Medford, OR (PRWEB) August 5, 2008
Music gear retailer Musician's Friend announced the availability of a very limited quantity of Epiphone Music Rising Les Paul guitars. The company will donate proceeds from the guitars to Music Rising in their continued effort to support and collaborate with the charity dedicated to supporting the Gulf Coast Region in recovering from the hurricane disasters of 2005. On August 25, 2008, the country will mark the third anniversary of Hurricane Katrina and Hurricane Rita which devastated New Orleans and surrounding areas, leaving many with nothing.
Music Rising is a national campaign cofounded by U2's The Edge, legendary producer Bob Ezrin, and Gibson Guitar Chairman and CEO Henry Juszkiewicz, along with support from Guitar Center Music Foundation and Musician's Friend. Since its inception in 2005, Music Rising has replaced over 2,400 professional musicians' instruments and has aided over 50,000 students and parishioners. The campaign launched Phase II in September 2006 which focused on schools and churches and will soon launch Phase III dedicated to restoring the musical heritage of the many celebratory groups who give New Orleans its continued reputation so rich in musical history and the dynamics of several musical genres.
As one of the inaugural partners, Musician's Friend will donate 100% of all proceeds from the sale of the limited number of Epiphone Music Rising Les Paul guitars available through its website. There are only 75 of the guitars available and once they are sold out they will not be reproduced. The guitars feature the official Music Rising winged logo designed by William Cathcart and
The Edge and come with a certificate of authenticity signed by the U2 guitarist. More information on the Epiphone Music Rising Les Paul Guitar is available at Musician's Friend.
The Epiphone Limited Edition Music Rising Les Paul Standard Electric Guitar has a mahogany body and neck, classic humbucker pickups, and a special inscription on the headstock that reads "Rebuilding Note by Note." The inscription on the belly reads, "Music Rising - Instruments for the Gulf Coast."
In addition to the 75 Epiphone Music Rising Les Paul guitars mentioned, there are only four personally autographed guitars signed by The Edge on the front of the body. These are for those patrons wishing to provide support at a higher level directly to Music Rising. The highly collectible, very limited number of Epiphone Autographed Music Rising Les Paul Guitars available will sell for $10,000--the entire proceeds going directly to Music Rising. The Music Rising Les Paul guitars with a certificate and without the autograph on the body will sell for $599 MSRP. Both are available for international shipping. Anyone interested in donating personally to Music Rising can do so by going to Music Rising Website or by sending a check or money order to Music Rising, C/O The Gibson Foundation, 309 Plus Park Blvd, Nashville, Tennessee 37217.
Photos of the guitars are available at Gibson under Epiphone.
About Musician's Friend
Musician's Friend, Incorporated is the world's largest direct marketer of music gear and musical instruments. Its assortment of more than 85,000 products including guitars, bass guitars, pro audio, keyboards, live sound and recording equipment, and drums and percussion is marketed through its print catalogs and websites, including musiciansfriend.com.
Along with the widest assortment of musical equipment and instruments possible, the Musician's Friend website also offers informative musicians' resources including in-depth buying guides, tech tips, hands-on gear reviews, tech articles from highly respected music industry professionals, interviews with well-known artists, and over 135,000 product reviews and ratings.
Located in Medford, Oregon, with warehousing in Kansas City, Missouri, and a call center in Salt Lake City, Utah, Musician's Friend can be contacted at 1-800-776-5173, or by visiting Musician's Friend
About Music Rising
Music Rising is a national campaign created by U2's The Edge, producer Bob Ezrin, and Gibson Guitar Chairman and CEO Henry Juszkiewicz along with support from some of the most diverse entertainment partners in the world. Inaugural partners included Guitar Center Music Foundation and MusiCares along with Musician's Friend, VH-1 Networks, MTV Networks, Rolling Stone Magazine, The Kennedy/Marshall Company, Ticketmaster, and Live Nation. Other partners who have joined the campaign include the NBA, the NFL, ABC-TV, Rhapsody/Real Networks, Julien's Auctions, Hard Rock International and many others. The campaign's goal has always been to help rebuild the musical heart and culture of the Gulf Region by replacing the musical instruments and gear that were lost in the Inundation of 2005. Music Rising will continue to be administered by The Gibson Foundation.
###