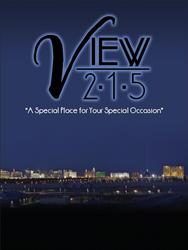 We plan on helping View 215 become a web pioneer in weddings and receptions in Las Vegas and around the world in the next 30 days.
Las Vegas (Vocus) August 2, 2008
After several successful soft launch events, up-scale corporate events center and wedding venue with a view of Las Vegas, View 215, announces online grand opening in conjunction with the launch of their newly redesigned website by strategic web estate development firm, Zealous Marketing, today.
Located in the rapidly developing southwest area of Las Vegas and tucked conveniently behind the Russell Road exit off of the 215 beltway, View 215 is destined to become a front runner for "off strip" corporate events and wedding venues in Las Vegas. On the heels of the immense success that the Red Rock Casino and Resort has found in their location away from the hustle and bustle of Las Vegas Blvd, View 215 offers clients a unique panoramic view of the Las Vegas Strip and surrounding mountains in addition to a plethora of in-house event services and affordable wedding packages in Las Vegas. Additionally, in an attempt to further seperate themselves from other wedding venues and corporate events venues, owners of View 215 looked to bring several innovative web concepts to fruition with the help of Zealous Marketing.
"The View 215 is pristine," stated Zealous Marketing CEO, Joe Perez. "When I was called in to sit with the owners regarding our creative website design and search engine optimization services, I was instantly impressed from the entrance to the View."
Perez continued to describe the View 215 property as having full panoramic views from the main room, bride's suite, kitchen facilities and patio that faces Las Vegas Blvd. "We were honored to be selected for a strategic web estate development project by such an innovative group of owners for a prestigious venue with incredible amenities - that's a mouthful of meaning," jokes Perez. "Our concepts combined will definitely provide a new service and propel the View 215 website into the public eye rather quickly."
Zealous Marketing worked closely with the owners of View 215 in creating a strategic project scope for the View 215 web presence to include 5 separate stages of development. The first stage of the project included seo (search engine optimization), creative website design and flash integration to "create an ambience reflective of View 215 atmosphere."
The second and third stages involved the search engine optimization, pr optimization and base web marketing for the website, choreographed at time sensitive intervals for optimum performance, and website launch – which occurred this morning.
The 4th and 5th final stages are still under wraps, but Perez did announce, "We plan on helping View 215 become a web pioneer in weddings and receptions in Las Vegas and around the world in the next 30 days."
"After our integration is tested and complete, View 215 will have exclusive unique wedding packages in Las Vegas that will be unrivaled and unseen - ever."