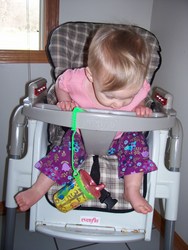 The BelliDeep Bungee is a great solution
Poplar Grove, IL (PRWEB) August 12, 2008
A new generation of sippy cup and baby bottle holders has been invented by Sarah Schaefer, of BelliDeep Design LLC. The BelliDeep Bungee cup holder is now available online and in store shelves in Illinois. This cup holder is the first flexible system on the market that is used in the car seat, stroller, high chair, and tables, keeping the dropped cup or bottle from hitting the ground and floor.
During a hiatus from science teaching career to raise her first daughter, she found as many moms experience, her 7 month old daughter's love of dropping and throwing her sippy cup. Whether she was in the stroller, car seat or high chair, the cup was getting launched and a mess was waiting to be cleaned up.
When her second daughter was born, she tried cup holders that had Velcro, straps, buckles, and many other solutions, but, none were safe enough or worked well enough to invest in multiple times. So she invented a flexible cup holder that fit any sippy cup or bottle that was safe, non-toxic, and easy to apply to multiple surfaces with one hand.
"The BelliDeep Bungee is a great solution," says Schaefer. "It fullfills my needs as a parent so it is rewarding to have other moms benefit as well from this cup holder. It makes one less stressed when taking a baby out and about in public out to restaurants."
A full description and photos of the BelliDeep Bungee sippy cup holder and baby bottle holder can be found by going to bellideep.net
Sarah Schaefer has a B.S in Science and her physics background has been useful in designing and pursuing a patent on the product. "I enjoy the process of evolving the developmental stage every baby goes through learning to drink from a sippy cup and developing a product that works for moms."
Schaefer is a vendor at the American Baby Faire in Chicago this fall, an event sponsored by Babies R Us. This product is already on store shelves in Illinois. The next step in her business plans are to seek out licensing or partnership with a larger company to gain national exposure to the BelliDeep Bungee sippy cup and baby bottle holders. To order this product or contact BelliDeep Design by going to the website at http://www.bellideep.net
Press Contact
Name: Sarah Schaefer
Company: BelliDeep Design LLC
Office Number:815-765-5138
###