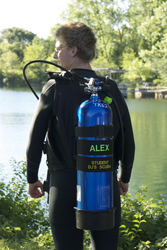 Like our successful line of YourBagTag™ personalized luggage tags, this new line of name tags for SCUBA can be personalized with a diver's name, nickname, dive club or SCUBA shop name
Riverside, IL (PRWEB) August 5, 2008
YourBagTag, LLC launched a new line of unique name tags for SCUBA gear today. These versatile tags, personalized with a diver's name, initials, or nickname, make identifying your gear a snap.
On a crowded dive boat or beach, most dive gear looks the same. The majority of Buoyancy Compensators (BC's) and wetsuits are manufactured in black, grey or blue colors making it hard to pick out your gear or your buddy from the crowd.
YourBagTag.com has produced a new stylish line of personalized name tags made from the finest polypropylene webbing and embroidered in many high-visibility neon colors to make identification a snap. Both the BC Name Tag and the YourTankTag™ easily attach to a divers gear. The tags simply wrap around the BC shoulder strap or SCUBA air tank and attach to themselves using Velcro® tabs.
"Like our successful line of YourBagTag™ personalized luggage tags, this new line of name tags for SCUBA can be personalized with a diver's name, nickname, dive club or SCUBA shop name," says Rebecca Wilson, owner of YourBagTag.com. "One can even personalize these tags with a club or business logo. A number of dive shops are considering using the YourTankTag to identify their student divers while underwater."
The BC Name Tag and YourTankTag™ were developed by Wilson's husband, an experienced diver and emeritus SCUBA instructor. He thought of the name tag idea after diving on an extremely crowded dive charter and almost putting on another diver's gear because they had the same equipment.
The BC Name Tag retails for $10.00 and comes in blue or black and can be personalized with up to 2 lines of text in neon colors of yellow, orange, green, pink, and white. The YourTankTag retails for $19.95, offers the same personalization as the BC Name Tag but comes in black only. If purchased together, YourBagTag.com offers a $5.00 discount off of the combination. The tags are available on the company website, YourBagTag.com.
###