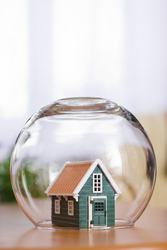 In fact, premiums are actually coming down, despite the floods and other severe weather conditions
(Vocus) August 4, 2008
For most people, their home is their biggest investment, so protecting it should be top of the list. But many people don't insure their home and their numbers are expected to rise as the economic slowdown bites - insurance is often one of the first cutbacks for people trying to make savings. Now Adrian Flux Insurance Service's household division has put together some advice on how to cut the cost of home insurance.
Julie Carter is head of Flux's home insurance division. "In fact, premiums are actually coming down, despite the floods and other severe weather conditions," she says. Even so, the ABI (Association of British Insurers) estimates up to one in four households in the UK don't have any home insurance, mainly because of the cost.
Rather than cutting out home insurance altogether, Julie Carter suggests homeowners reduce the extent of their cover to cut the cost of their premium. "We've identified key areas where people may be paying over the odds, or where they could get by with less cover," she says. "The important thing is to protect the investment in the property."
Here are Flux's key suggestions for reducing the cost of home insurance:
New for old or accidental damage cover? Policyholders can choose between new for old or accidental damage cover. While both options cover standard perils - flood, fire, theft and so on - new for old is cheaper, since it doesn't cover items that are accidentally damaged.
How much will it save? Choosing new for old rather than accidental damage cover will save around 10% of the contents section of the premium.
Get rid of the 'extras'. Specified items (such as expensive bicycles, cameras, jewellery and so on) can add up to a significant portion of the total premium. Is the extra cover really needed? The 'All risks' option is a cheaper way to protect items away from home, provided the cover is high enough - check the small print or talk to your insurance provider.
However, if certain items do need to be covered individually, it's almost always cheaper to do it as an extra on the contents cover rather than taking out a separate, specialist policy.
How much will it save? Extras can make up 20% or even more of the contents part of a household insurance policy.
Claim the discounts. Talk to the insurer and make sure all the possible discounts are taken into account. Discounts may be available for:

Smoke alarms
Intruder alarms
Door and window locks
No Claims Bonus - if no claims are made on the policy, most companies should give a discount, just as for car insurance.
As to how much these will save, it depends on a variety of factors including postcode. Typically door and window locks may save 5 to 10% on the contents part of a policy.
Check the rebuild costs. Many insurers include 'blanket cover' for the rebuild insurance on the house. What this means is that the cover will be a blanket figure of up to, say, £500,000. This is fine until renewal or if the policyholder considers switching insurer. If they ask for a quote including rebuild costs of £500,000, when the real rebuild cost is only (say) £200,000, then the quote will be significantly higher, without the policyholder gaining any benefit. Find out the actual rebuild costs and then ask the insurer for cover for that figure. The ABI has a rebuild calculator at http://www.abi.org.uk
The saving depends on the levels of cover. Typically blanket cover of £500,000 will probably cost around 25% more than £200,000 rebuild cover.
Join or set up a Neighbourhood Watch scheme. Many insurers will give a discount for this and similar schemes. The discount varies but 10% is typical.
Ask questions. When calling an insurance company ask them for advice on reducing the cost of the policy. Be as blunt as necessary.
Ring around. Get advice from different insurers and call as many as possible. If one suggests a discount that another didn't mention, call them back and see if it makes a difference.
"Not insuring a property is just crazy," says Julie Carter. "We hope these suggestions will help, but in the longer term the insurance industry needs to find cheaper ways to help people protect their homes."
Adrian Flux aims to offer cheaper home insurance and has a range of policies for homes, contents, landlords and buy to let, including specialist schemes for hard to insure properties such as thatched homes, underpinned buildings and those at risk of flooding. For information call the Flux Household Insurance hotline on 08700 772266, email household @ adrianflux.co.uk or visit the website, http://www.adrianflux.co.uk, and click on the relevant button under the 'Home Insurance' section.
Cutting the cost of home insurance.doc – Aug-08
Press Enquiries:
TONI TURNER OR ALISON HAYNES AT THE PUBLICITY WORKS: (01263) 761000; Email: flux@publicityworks.biz
JULIE CARTER AT ADRIAN FLUX INSURANCE SERVICES: (08700) 772266
SEPARATIONS CHARGES: Offers can only be dealt with by fax (01263 761009) or email (seps@publicityworks.biz). All offers are considered and we will contact you if the answer is 'Yes'. Otherwise the answer is, regrettably, 'No'.
###