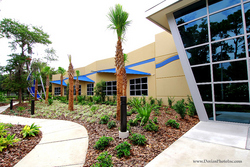 It's been very rewarding to bring a LEED Gold project to our community
Clearwater, FL (PRWEB) August 5, 2008
One of Florida's first registered office building projects pursuing LEED-Gold certification from the U.S. Green Building Council has opened at Offices at Park Place in Clearwater, Florida. Developed by Hallmark Development of Florida, Inc., the building is the new international headquarters for TUI Marine, parent company of The Moorings and Sunsail Brands.
"It's been very rewarding to bring a LEED Gold project to our community," said Steve Engelhardt, president of Hallmark Development. "We've operated here for over 40 years, and we feel it's our responsibility--and our honor--to drive sustainable development in the area."
LEED is a third-party certification program and the nationally accepted benchmark for the design, construction and operation of high performance green buildings. LEED rates buildings in categories for sustainable sites, water efficiency, energy and atmosphere, materials and resources, and indoor environmental quality. The project is an extension of TUI Marine's worldwide environmental policy.
The project was completed in partnership with builders The Murray Company and architects Collman & Karsky. The $3.4 million project contains green features such as room lighting which turns off when not in use, cool roof, building positioning to maximize natural light, tinted windows which maximize natural light and block heat. In addition, renewable energy has been purchased to offset 70 percent of the building's electrical use over a two-year period. Other green features include:

Low-flow fixtures and water conservation shower heads
Recycled and low-toxicity materials
Preferred parking for high-efficiency vehicles
Showers for staff members who bicycle to work
A white cap sheet which reduces the heat absorbed by the roof
Cubicles made from recycled corn
Tile made from recycled cement
Xeriscape landscaping, which utilizes natural regional plants and increases water efficiency
The healthy design also included a Construction Indoor Air Quality (IAQ) Management System. This plan was created and implemented during construction to improve the indoor air quality for construction workers and building occupants. The plan included using low-emitting materials, covering HVAC openings with plastic, placing MERV 8 filters on return air openings, placing MERV 8 filters in HVAC units, using equipment to reduce airborne particulates and odors, and using dehumidifiers for moisture control. After construction, a third party tested and confirmed the concentration levels were acceptable for formaldehyde, particulates (PM-10), total volatile organic compounds, and carbon monoxide.
About Hallmark Development of Florida, Inc.
Hallmark Development of Florida is a diversified real estate development firm founded 43 years ago. It has developed roughly 630,000 square feet of office and service-center space. It owns and operates the Airport Business Center with nearly 160 tenants near the St. Petersburg/Clearwater International Airport on 140th Avenue North in Clearwater. In addition, Hallmark manages several other commercial properties, including Roosevelt Lakes Office Park in the Feather Sound area and Enterprise Office Center in the Countryside area, both in Pinellas County. For more information on Hallmark Development, Inc., call (727) 539-7002 or visit http://www.HallmarkDevelopment.net .
###