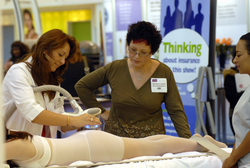 London, UK (PRWEB) August 5, 2008
Since the acquistion of the brand by EMAP Communications, changes to the exhibition in the South are now being carried on to the Northern Event, with the specific goal of facilitating the ability to do serious business. In the past Professional Beauty North has always attracted the newest members of the beauty community in the form of newly enrolled students. From 2008 the same student entry policy that was introduced at South will also be applicable to North. This begins with no entry for NVQ Level One (or equivalent) students to Professional Beauty North. As a trade-only event, attendance is now open ONLY to NVQ Levels Two and Three or equivalent. Pre-registration prior to attending the event and student uniforms will also be mandatory at Professional Beauty North 2008.
This year's show will see a major presence by the biggest brand names associated with the professional beauty and spa industry. No longer will the beauty industry as a whole appear London-centric. Professional Beauty North is bringing the very best skincare, spa, tanning, equipment and nailcare from the UK and Europe to the top professional beauty event in the North of England. Professional Beauty North is the Autumn launch pad for many of the brands who have until now only exhibited in London and who will showcase for the first time this October. These include: Cosmeceuticals, Diva Deva, New ID cosmetics and many more.
The team behind the re-vamped Professional Beauty North is changing the emphasis all over the show. This year there will be major new features to benefit the serious senior buyer as well as a dedicated PR and advertising campaign across Europe and beyond to reach beauty professionals and buyers worldwide.
For 2008, Professional Beauty North visitors will see custom-designed VIP entrance and visitor areas, improved crowd management measures with new fast-track student access to the exhibition halls, designed to reduce overcrowding, plus new catering areas throughout the Show.
To get the most of your day, Professional Beauty North will introduce a new personalised online tool to plan visit. Find out more at http://www.professionalbeauty.co.uk/north. Once at the show, visitors will benefit hugely from new improved show wayfinding systems to aid visitors in locating their way to the exhibitors and features they want to see.
Entry to Professional Beauty North 2008 is free for those visitors who register in advance. For more information call 01923 690636 or pre-register online at http://www.professionalbeauty.co.uk/north.
###