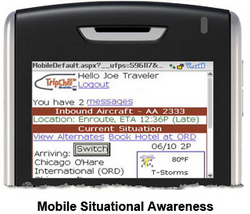 Stratham, NH (PRWEB) August 5, 2008
Skyward Innovations has announced the availability of the TripChill™ consumer website, a mobile passenger concierge service that proactively monitors itineraries for potential issues and decisively implements user approved corrections upon request. Accessible via text messaging, email, or a smart phone web browser, the service targets those business travelers employed by small to mid-size domestic companies without a corporate travel office and provides intelligent situational assistance such as prioritized alternate flight listings, contact notifications, inbound aircraft status, and the ability to book a hotel or car when stranded at an airport. To begin the process, travelers email their reservation details to TripChill where they can quickly organize, edit and print their complete itinerary from the website. Once the service receives and chronicles travel plans, it immediately begins monitoring the itinerary for travel updates.
According to President Alex Shore, "Our focus is to provide a complete automated travel assistant for frequent flyers. Travelers want to be in the know as soon as possible. It helps to act fast, and we get that, so rather then wait to hear about modifications through airport personnel, mobile users can meet with a gate agent and reserve a seat on their preferred flight or secure a car or hotel reservation before they all get booked up. We believe our service is needed more than ever now that airlines are shrinking flight schedules, drastically reducing the options a traveler has when their flight is canceled or they miss a connection. Travelers want to know what is going on, but they usually don't. They want to take action immediately -- not wait in people lines. Our smart notifications give the flyer the targeted information that they need to make booking updates that best suit their busy schedule, and our concierge features makes traveling easier so that travelers can better focus on their business."
TripChill™ is a free service that does not require the installation of device specific applications. To get started, visit the website at http://www.tripchill.com to create an account or view the demonstration video. You can also add the unique TripChill™ Alternate Flights gadget to your iGoogle homepage. This gadget allows you to graphically view the alternate flight options you have for one or more legs of your travel itinerary.
About Skyward Innovations:
Founders David Miller, Alex Shore and Christopher Holt were part of the mobile device revolution, starting with the first versions of the Palm Pilot and the Windows CE devices during their tenure at Pumatech based in San Jose, California. They understand the various mobile form factors and how to engineer the correct user experience for cell phones and smart phones, as they were core members of the engineering team that built Pumatech's Intellisync product for synchronizing mobile devices and desktop applications. Their dedication for developing a consumer travel service began with their connections in the airline industry and their personal travel experiences.
The company has recruited a respected team of advisors known for their detailed understanding of web 2.0 marketing, consumer travel website revenue models, Travel Management Company operations and airline subject matter expertise.
Skyward Innovations will be competing at PhocusWright's 2008 Travel Innovation Summit in Hollywood, California on November 17, 2008.
###