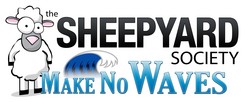 The less we buy the more they make, so if we bought no gas from them at all, their profits should go through the roof!
Atlanta, GA (PRWEB) August 5, 2008
According to the Sheepyard Society (http://www.thesheepyard.com) partisan politics is the number one roadblock to solving the problems facing America today and they're giving those who agree ways to directly express their frustration. Convinced rhetoric and blogs are ineffective means of protest, the society gives real tools Americans can use to collectively embarrass, humiliate and (if possible) shame elected officials into realizing the damage caused by their inability to play nice. Activities are supported by animated viral videos and include:

Grassroots Campaign to Fight Chronic BPS (Buck Passing Syndrome). The Society provides a way to intervene and help suffering politicians fight this crippling affliction that effects us all.
Point-A-Finger; the gizmo that lets you vote like a pro! Here's a tool patterned after proven voting techniques used by real politicians.
My Party 'Tis of Thee - a stirring C&W ballad ignites the passions of the whole flock.
Operation: STOGIEGRAM - Be your own lobbyist by sending cigars and nominate anyone you want (mom, boss, sweetheart) to the Super Delegates at the Democratic Convention.
Dick Cheney's EWE Don't Matter Opinion Polls honor the only politician to openly express the government's attitude towards the people by responding "so?" when told 70% of Americans disapproved of the war.
"WhyNott? Boycotts" buck the trend of boycotting in anger over high gas prices and do ExxonMobil a favor. When they concurrently announced record breaking profits and lower than expected domestic sales, Sheepyard economists concluded, "The less we buy the more they make, so if we bought no gas from them at all, their profits should go through the roof!"
The Society encourages citizens to resign their party membership by offering downloadable Letters of Resignation, pointing out 'at least AAA membership includes road service and discounts at leading motels.'
Americans protested unfair taxes by tossing boxes of tea into the harbor, gender inequality by burning bras, an unjust war with songs and marches and racial discrimination by standing up to water canons and police dogs. In urging Americans to join, the Sheepyard Society points out 'good thing for us John Adams didn't have the Internet. It's highly doubtful we could've blogged our way to freedom.'
For more information visit http://www.thesheepyard.com or contact Leslie Cardigan, Media Relations, at leslie@thesheepyard.com / (404) 806-0895.
###