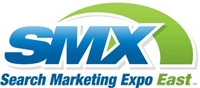 BCI's dedication to quality content matches ours for SMX. We're very pleased to associate the two brands with this partnership
Redding, CT (PRWEB) August 5, 2008
Bruce Clay, Inc. will be presenting its SEOToolSet Training from October 9-10, 2008 as an expansion of the search marketing conference and exhibition Search Marketing Expo - SMX East. The partnership between Third Door Media, the producers of the SMX conference series, and the West-coast based search marketing company will enhance the search marketing conference with a two-day training course taught by one of the most-recognized leaders in search marketing, Bruce Clay.
"SMX is one of the strongest opportunities for networking and education available in the search marketing industry," said Bruce Clay, president and founder of Bruce Clay, Inc. "That our SEO training has been invited to be an official training course of SMX East confirms that our white hat program is, likewise, a top-level industry offering for those seeking corporate SEO methods."
"SMX East attendees will have the opportunity to continue an outstanding week of search marketing education by attending Bruce Clay's SEOToolSet Training," said Third Door Media President Chris Elwell. "BCI's dedication to quality content matches ours for SMX. We're very pleased to associate the two brands with this partnership," Elwell added.
Search Marketing Expo - SMX East, October 6-8, 2008 at the Jacob K. Javits Convention Center in New York City, will offer conference attendees more than 50 sessions covering the full range of search engine marketing topics. Produced by the same company responsible for the industry news site Search Engine Land and webcast series Search Marketing Now, SMX has quickly become one of the must-attend education and networking events of the fast-growing SEM industry.
The SEOToolSet Training course is geared toward introducing a corporate audience to the SEO process. It will cover how a search-engine-friendly Web site impacts traffic, conversions and online revenue and what can be done to improve the performance of a site. The partnership between Bruce Clay, Inc. and SMX illustrates the dedication of both to quality educational opportunities for search marketers and businesses interested in developing their online presence.
About Bruce Clay, Inc.:
Bruce Clay, Inc. was founded in 1996, providing search engine optimization and consulting, pay per click management, optimization training and diagnostic tools. Along with offering high-quality services, Bruce Clay has led the industry by authoring the SEO Code of Ethics, creating the downloadable Search Engine Relationship Chart™ and presenting a certification program to promote ethical practices. Today the company has offices in the U.S., U.K., Australia, South Africa and Japan.
About SMX East Third Door Media, Inc.:
Search Marketing Expo - SMX East is produced by Third Door Media, Inc. Third Door Media's mission is to empower Internet and search marketing professionals by providing trusted content and community services they need to be successful. Other Search Marketing Expo events include SMX West, SMX Advanced, SMX Social Media Marketing, SMX Munich, and SMX London. The full list is available at the Search Marketing Expo site.
Third Door Media also publishes the search marketing news and analysis site Search Engine Land, produces Search Marketing Now, a lead-generation marketing solution for suppliers of SEM-related products and services, and Sphinn.com, the place for Web, online, search, interactive and Internet marketers to share news stories, talk within subject-specific discussion forums, build a network and stay connected to hot topics in Internet marketing.
Contact:
Claire Schoen
Third Door Media
(203) 664-1350
claire(at)thirddoormedia.com
Virginia Nussey
Bruce Clay, Inc.
vnussey(at)bruceclay.com
###