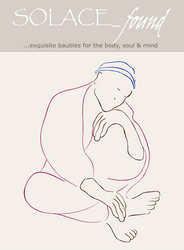 Oakland, CA (PRWEB) August 8, 2008
SOLACE_found is an online presence whose name, SOLACE_found, is truly the intent. Calm, peace and comfort envelop each visitor upon entering the site, designed specifically for functional ease and psychological comfort. Domestic consumers rediscover old stand-by's, such as Claus Porto soaps, body creams and bath salts, and experience products that are either new or off the beaten path like jewelry by Corinthia Peoples or the organic skincare line from Kathleen Lewis.
As we head into the fourth quarter, owner Carol Crossley suggests, "...it's important for people to know that SOLACE_found is not just selling products. It is a vehicle to alter those moods that oftentimes accompany changing times with something as simple as a comforting cashmere throw or splashing on that special eau de toilette after bathing in wonderful bath salts."
SOLACE_found is an organic, living and ever changing entity. The constant goal is to grow, change and expand the array of products to reflect the intent for each visitor - transporting them to a place where solace can be found. From bed linens to personal care, many products are organic. Sustainability - buying organic products recognized by the Oeko-Tex Association and other organic certification organizations, utilizing LEED (Leadership in Energy and Environmental Design) design and construction, and investing in renewable energy - is of the utmost importance. Buying organic empowers SOLACE_found visitors to be catalysts for change and to remain active consumers by investing in sustainable alternatives when presented.
Although currently geared toward domestic consumption, in the months ahead SOLACE_found looks toward growth and positioning as an international distributor of luxury personal care and home goods.
Visit http://www.solacefound.com for additional information.
###