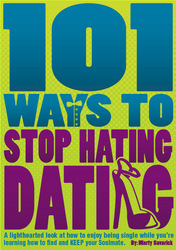 After interviewing so many people, it became apparent that they all had one thing in common--they hated dating. It was easy to figure out why they all hated it so much, but it took a little longer to write a book that teaches them how to stop hating and enjoy dating
Boca Raton, FL (PRWEB) August 6, 2008
With the rise of online dating networks and social networking sites steadily occupying the Web, it is no wonder that singles might need a "guide" to help them navigate the tricky world of dating. The new book, 101 Ways to Stop Hating Dating can not only assist daters in their quest to find their soulmate, but also provides a lighthearted approach to help people stop hating dating and start enjoying their single status.
After interviewing thousands of men and women, and experiencing some dating horror stories of his own along the way, author Marty Savarick decided to use his dating knowledge for the greater good. A former president of two different publicly traded Direct Marketing Companies; Marty used his expertise in life and love to teach readers how to successfully "market" themselves in the dating world.
"After interviewing so many people, it became apparent that they all had one thing in common--they hated dating. It was easy to figure out why they all hated it so much, but it took a little longer to write a book that teaches them how to stop hating and enjoy dating," stated Marty Savarick, author of 101 Ways to Stop Hating Dating.
The launch of an interactive online dating game to promote the book has been rapidly sweeping the Web, having been visited by thousands of viewers in a matter of days. As a result of the interest in the game, the response to the book has been overwhelming. To play the game, visit: http://stophatingdatinggame.com.
In conjunction with the book, Marty also has an online blog that provides a forum where people can share beneficial information about dating at: http://www.stophatingdating.blogspot.com.
101 Ways to Stop Hating Dating can be purchased at: http://www.stophatingdating.com.
For more information on 101 Ways to Stop Hating Dating, please contact Elizabeth Hannum at 561.241.4567.
###