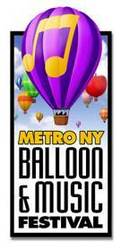 Shirley, NY (PRWEB) August 6, 2008
Metro NY Balloon & Music Festival sponsored by RE/MAX of New York, Inc., returns to Brookhaven Calabro Airport on August 8, 9 and 10, 2008. In keeping with the event's theme "Reach for the Sky," each day from 6:00 a.m. to 8:00 a.m. and evening from 6:00 p.m. to 8:00 p.m., wind and weather permitting, more than 35 colorful and special shape hot air balloons will be inflated, some will tether and others will take flight. Balloons taking part in the Festival include Arky, the Noah's Ark balloon; America One - The American Flag balloon, "Patty," the Shamrock balloon, AT&T balloon and the Energizer Bunny® Hot "Hare" balloon and many more.
In addition to morning and evening hot air balloon inflations, the sky will be the backdrop for a fantastic array of mega-kites, including the world's largest kite in the shape of the American flag. While the skies will be full of activity, there will be action and excitement on the ground as well. There will be daily monster truck rallies, motorcycle dare devil performances, extreme sports displays and other thrilling shows. The skydivers will return as well as an expanded carnival midway, Purina pet pavilion with Purina Incredible Dog Team show, travel expo, boat and RV show, vintage fire truck muster, craft and home improvement pavilion and custom car and motorcycle show.
More than 40 top name touring and Metro NY area bands will perform all day long on three big concert stages each day of the Festival. Bands will include Zebra, playing its only Long Island performance of the summer, direct from Ireland - The Saw Doctors, local teen favorite Push Play, Billy Joel tribute band "Big Shot" and touring Pink Floyd tribute band "The Machine." On Friday night WBON will host La Fiesta Fieston, this special event will feature a lineup of today's most popular Hispanic musical performers. In addition, the Party 105.3 FM and 101.5 FM Tenth Anniversary Mega Jam will take place Saturday evening, August 9th. The Mega Jam, will feature over 25 pop and dance artists including Naughty by Nature, Pitbull, Michelle Williams (of Destiny's Child), Frankie J, La Bouche, Colby O'Donnis, George LaMond, Lumidee, Nina Sky, Reina, Sylver Logan Sharp, Veronica, Kim Sozzi, Lucas Prata, Noel, Ian Van Dahl, LMFAO, Denise Rviera, NGP, Fawni, Ercola featuring Daniella, Ercola featuring Jeremy and Anane.
The Second Marine Corps Aircraft Wing Big Band and Show Band will also be performing at the Festival. All concert performances are free with admission.
The 2008 Festival will also include the Astoria Federal Savings Children's Jubilee. This special area of the Festival will be devoted to children's entertainment and will include daily juggling shows by Guinness Book of World Record Holding Juggler, Bruce Sarafin, and the Kings of the Coast Interactive Family Pirate Show as well as Children's Character Parades which will march down the center of the Festival each day. The Children's' Jubilee will also feature Starfish, a children's rock band which will perform in the morning on Sunday, August 10th.
In support of local families who wish to enjoy the Festival, management has implemented a new family value pricing structure for select food and beverage items. Festival admission discount coupons will also be available at more than a thousand local retail locations, including all McDonald's locations on Long Island.
"The 2007 Metro NY Balloon & Music Festival was a great success. More than 100,000 people attended and saw fantastic hot air balloons take to the sky, thrilling extreme sports and world class musical performances. This year's event will have much more entertainment and activities for people of all ages. The Festival will feature more than 100 hours of music and entertainment including performances by more than 40 music acts performing all day long on three stages," said Henry Weber, President of RE/MAX of New York, Inc., the event's sponsor.
Tickets for the Festival can be purchased online in advance at the Festival's website. Walk-in tickets at the Festival will cost slightly more. Tickets for the Festival are also available at participating RE/MAX real estate offices, Curves locations and PC Richard & Sons Metro NY locations. Discount coupons are available at all 88 McDonald's franchise locations across the Long Island. Advance ticket prices are adult $20, children ages 5 to 11 $12 and kids 4 and under are free. For tickets, information and schedule of performances visit http://www.metronyballoonfest.com or call (516) 794-4444.
RE/MAX of New York, Inc., is the state's leading real estate franchise network headquartered in Garden City, New York. The 2007 Festival helped to raise more than $100,000 for local charities and not-for-profit organizations. This year the Festival will be supporting more than a dozen community groups, charities and not-for-profit organizations including the Ronald McDonald House, Susan G. Komen Breast Cancer Foundation and Children's Miracle Network.
###