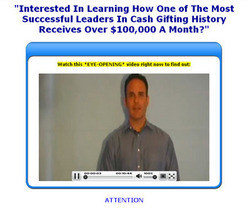 We are helping people achieve what they want most in life
Madison, FL (PRWEB) August 6, 2008
The days of pyramid schemes, golden circles and other phony financial marketing strategies are over. GiveMore-ReceiveMore.com is out to prove that legal gifting programs can and do work.
The financial crisis facing the United States has thrown individual investors and corporations into a financial tailspin. However, according to GiveMore-ReceiveMore.com owner Edward Williams, people can easily learn how to survive the crisis and prosper in the process by gifting assets for profit.
"We are helping people achieve what they want most in life," explains GiveMore-ReceiveMore.com owner Edward Williams. "Ours is a time-tested approach that allows anyone to enjoy prosperity with minimal effort or risk."
Williams teaches his website marketing strategies and profit-building techniques in a series of seven instructional videos, titled "Secrets To $100,000 a Month." In it, individuals learn the same simple gifting techniques from which many others have profited. To date, Williams' wealth building program has expanded to 40,000 members in 16 countries across the globe, he said.
According to Williams, the Give More-Receive More differs sharply from pyramid schemes and other money-making scams that ultimately fail due to questionable and unsuccessful business practices. In the past, these types of financial marketing strategies were prone to failure for a number of reasons, such as:
Financial program operators failed to formulate and enact effective and open website marketing strategies necessary to generate perpetual cash leverage.
Poor or deceptive gifting money tracking systems were put into place, and documentation was missing or inadequate.
Cash gifting leads were poorly managed and not well informed by the business operator about how the process was to work.
In the past, unfortunately, a number of poorly managed cash gifting programs fell into some of the same traps. Give More-Receive More avoids these pitfalls through fastidious organization and strong leadership. Cash gifting techniques are legal and taught by an expert with more than eight years' experience with the program, who has learned from celebrities such as Tony Robbins, Zig Zigler, Jim Rohn and Brian Tracy, using these same techniques. Members receive full training and support as they implement and expand their own strategies for financial success.
Williams has organized regular Wednesday night workshops that can be accessed at (712) 432-1699 (access code 1045845). For more information about Give More-Receive More, visit the Web site, GiveMore-ReceiveMore.com or call (850) 464-1404.
About GiveMore-ReceiveMore.com:
GiveMore-ReceiveMore.com is a cash leveraging organization that empowers others with financial marketing strategies designed to help them prosper through cash gifting. The company offers a seven-step video series titled "Secrets To $100,000 a Month," which teaches its wealth-building gifting technique.
###