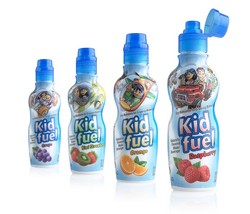 Kid Fuel is an ideal alternative to plain water. Kids love the taste, so they are more likely to drink it than a glass of water. Kids are hydrating and getting essential nutrients at the same time
Las Vegas, NV (Vocus) August 6, 2008
As summer temperatures continue to rise across the country Kid Fuel reminds parents and kids to beat the heat and drink plenty of water. The body loses water to dehydration as the body temperature rises, so replacing fluids is essential to keeping cool and healthy.
Experts recommend drinking at least eight glasses of water a day, approximately 64 ounces. However, when the weather becomes hot and more humid it is recommended that fluid intake increase to keep the body cool and avoid dehydration. Avoid beverages that contain caffeine or high amounts of sugar which cause dehydration. Opt for a healthy beverage such as Kid Fuel, a vitamin-enhanced water for children available in four fun flavors; Grape, Kiwi-Strawberry, Orange and Raspberry.
"Kid Fuel is an ideal alternative to plain water. Kids love the taste, so they are more likely to drink it than a glass of water. Kids are hydrating and getting essential nutrients at the same time," said Doctor Edwin Homansky, an Emergency Physician and Medical Director of Valley Health System in Las Vegas, Nevada. "Parents are also able to limit the amount of freely available sugar their children ingest."
It is extremely important for parents to ensure that children are properly hydrated during the hot summer months as kids are more susceptible to heat-related illness. Parents should make sure children drink water before, during and after outdoor activities. It is also recommended that outdoor activities take place during cooler times of the day, in the morning and early evening.
About Kid Fuel™
Kid Fuel™ focuses on key nutritional needs of children. The kid-friendly, parent-approved beverage gives kids the hydration they need while packed with essential vitamins and minerals for growing bodies. The 8-ounce Kid Fuel™ bottle features a fun series of educational characters that kids love in an ergonomically designed bottle that features a non spill re-sealable sports cap and easily fits in lunch boxes, sports sacks and backpacks, keeping up with kids active lifestyles. Kid Fuel™ makes hydration healthy and easy, one bottle at a time. For more information please visit http://www.kidfuel.com.
Media Contacts:
Rebie Bautista or Andria Mitsakos
Andria Mitsakos Public Relations
Ph: 917-859-7269 or 212-320-3677
Rebie @ andriamitsakospr.com
Andria @ andriamitsakospr.com
###