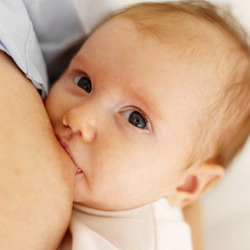 Ultimately, these facts determine how comfortable you will be during breastfeeding.
Alexandria, VA (PRWEB) August 6, 2008
Proper "positioning" of mother and baby during breastfeeding is important because it is the key to successful breastfeeding and can prevent sore nipples and insufficient milk supply. "How you sit, how you hold your baby, and how you offer your breast all affect how your baby latches on," explains Rubina Mason, international board-certified lactation consultant and member of the Lansinoh Laboratories breastfeeding advisory board (http://www.lansinoh.com). "Ultimately, these facts determine how comfortable you will be during breastfeeding." Here are Mason's tips to overcoming some early breastfeeding challenges:
Getting Into Position:
Mom: It is very important that mom gets comfortable before starting to breastfeed because once baby is latched-on, she's could be in this position for 20 to 30 minutes. Sitting upright in an armchair or rocking chair is a common position for breastfeeding though it's okay to sit up in bed as long as you make sure that your back, shoulders and knees are well-supported. Many moms also find that using pillows to support the baby's body while breastfeeding is helpful as well.
Baby: Babies as well as mothers should be comfortable during breastfeeding since baby's breastfeeding reflexes work best when the baby is well supported with her body comfortably aligned. The most common breastfeeding positions are:

Cradle Hold - The baby's head will rest in the crook of your elbow or on your forearm, and will be supported with your arm beneath her back and your hand on the baby's thigh or bottom.
Football Hold or Clutch Position - The baby lies on his back between your side and flexed arm. The baby's head is supported by your hand, allowing your other hand to hold the breast if necessary.
Side-Lying Position - Learning to nurse your baby lying down is invaluable. The side-lying position is relaxing and can help you get more, much-needed sleep. You can use it to nurse your baby at night or to nap-nurse during the day. This position is also beneficial for the mom who had a cesarean delivery.
Ouch, My Breasts Hurt:
Many breastfeeding mothers experience engorgement, or swollen breasts, a temporary condition that begins about the third day postpartum. Nursing frequently during this period is the best way to alleviate engorgement. "Breastfeeding while engorged can be difficult since the baby can have a hard time properly latching on due to flattened nipples, but don't let this discourage you," says Mason. If your breasts do become engorged, nursing frequently is a great way to alleviate this condition. If you find that your baby cannot latch on because of your swollen breasts, taking warm to hot showers can also help soften your breasts, allowing you to breastfeed more comfortably.
"You can also use the new Lansinoh® LatchAssist™," advises Mason. "The LatchAssist gently draws temporarily flattened nipples out so baby can more easily latch on during the early days of breastfeeding." After nursing, use an ice pack to help keep the swelling down and relieve the pain.
It's also important to know that in the early weeks of breastfeeding, along with swelling and engorgement, your nipples can also be tender and sore. However, Mason adds, "Sore nipples are not inevitable during the early days of breastfeeding. Painful feedings are a signal that something is not right and you may need to make a change in your positioning or your baby's latch-on technique." In the meantime, if your nipples do become sore or cracked, Lansinoh® HPA® Lanolin can be applied to soothe, heal and protect the nipple skin. Lansinoh HPA Lanolin, the world's purest and safest lanolin, is virtually odorless and contains no preservatives, no additives, no water, no chemicals, and no perfume, and most importantly, it is safe for the baby and therefore does not need to be removed before breastfeeding.
"In the early days of breastfeeding, you'll have to keep working at getting your baby latched-on properly, even if it means gently taking the baby off the breast and starting over several times at the beginning of feedings," explains Mason. Breastfeeding is natural but it does not always come naturally. By trying to get the baby's latch perfected in the beginning of the process, mom can hopefully lessen any discomfort she may experience and have a rewarding and satisfying breastfeeding relationship with her baby.
New and expecting moms can visit http://www.lansinoh.com to:
Join Lansinoh's Online Community (http://www.lansinohmoms.com) where moms can share their stories of the joys and challenges of early motherhood
Register for a chance to win a free Lansinoh Manual Breast Pump or Lansinoh Double Electric Breast Pump
Learn more about Lansinoh breastfeeding products and "where to buy" information
Sign up for Pre-Natal Nurture Notes™, special e-messages received twice a month during the last trimester that focus on preparing for the baby's birth and breastfeeding, or, the popular Nurture Notes™, e-messages that provide breastfeeding tips, encouragement and support from birth until the baby's first birthday
###