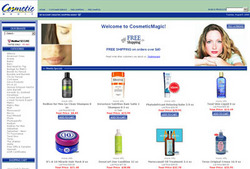 Fort Lee, NJ (PRWEB) August 6, 2008
Heat, sun, humidity, and harsh chemicals, like chlorine, are just a few of the many things women and men discover damage their hair in warmer weather, particularly summer months. Many people find themselves dashing to hair salons to tame the mess that summer has left them. However, achieving those freshly styled salon looks that encompass health and shine are now made affordable - and without the salon. CosmeticMagic.com's latest line of products, Moroccanoil, is the perfect addition to their already comprehensive selection of professional, salon hair products.
These products are designed to offer women the opportunity to restore shine to dull, lifeless hair through cell structure renewal. Made from argan oil, this unique and powerful product contains unsaturated fatty acids. Additionally, rich in tocopherols, argan oil works like vitamin E to provide powerful antioxidants to the hair. Used for years by women in Morocco, argan oil has traditionally been used to counteract the effects of the hot climate and aging. Ideal for hair and nail treatment, argan oil is a natural treatment that has recently turned into a salon craze.
The line of Morccanoil products is complete and includes an oil treatment, hydrating mask, styling cream, and curl cream. Perfect for all hair types, these salon hair products are now available online at discount prices.
The Moroccanoil oil treatment is perfect for locking in shine while transforming brittle locks into strong, manageable hair; while the Moroccanoil curl cream tames unruly curls and calms frizz. These products can restore shine and bring balance to any hair type.
In addition, CosmeticMagic.com carries other popular hair products like DevaCurl, Kerastase, and photospecific relaxers for women. This online hair care store also offers a wide selection of professional hair tools to help ensure locks stay healthy and beautiful. From the Featherweight Dryer to Farouk Chi Skull Mania Ceramic Flat Iron to Jessica Simpson Extensions, CosmeticMagic.com offers professional grade products at a fraction of the cost. Additionally, CosmeticMagic.com offers free shipping on any order over $40.
To learn more about the Moroccanoil oil treatment, hydrating mask, or all other salon hair products available, please visit CosmeticMagic.com.
About CosmeticMagic.com:
CosmeticMagic.com is an online outlet for the best names in salon hair care products. They offer tools and products found only in salons, but without the salon markup. Committed to bringing their clients the latest and greatest offerings in the industry direct, they offer free shipping on orders over $40. Their vast collection of salon products without the markup now includes Moroccanoil oil treatment, curl cream, styling cream, and hydrating mask.
###