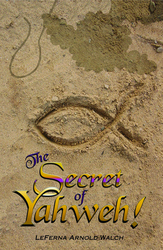 My firstborn son's coma was the sacrifice it took to open my eyes to God's plan for me. Now I have a promise to keep
Addison, Mich. (PRWEB) August 14, 2008
Scotland's J.K. Rowling, the once unknown author who claimed to create Harry Potter from her imagination, stirred up American pop culture by exposing children to spells, witchcraft and wizardry. Now, an American author is stirring up the answer, exposing children to true secrets, myths and miracles. The author introduces character J.C. Lamb, who came not from the imagination, but from a sacrifice and a vision from God.
Mary's Lamb Publishing recently debuted their first Give & Share Book™ titled "The Secret of Yahweh!" at the International Christian Retail Show, and it proved to be an instant favorite. The line that formed to meet author LeFerna Arnold-Walch and get a copy of her book was one not usually seen for an unknown writer (especially one whose testimony claims she is "not much of a writer.") LeFerna has become a leading authority on the un-churched family since her son's car crashed into a church in 1998.
"My firstborn son's coma was the sacrifice it took to open my eyes to God's plan for me. Now I have a promise to keep," she says. The author and veteran entertainer also has radio and television experience, and will be a recommended guest for talk shows across America in an August 2008 issue of Radio and TV Interview Report Magazine.
LeFerna says what makes her Christian children's novel newsworthy and unique is not only that it stands up for our "under God" Christian history in the United States and introduces a character whose mission is to reach 100 million un-churched Americans, but that each book creates 12 new or reaffirmed disciples for Christ when the circle goes unbroken and the book is returned to its original owner.
"It is a new family-reading experience that has people calling J.C. Lamb the Christian parent's answer to the Harry Potter phenomenon," LeFerna says.
Christian parents can compare J.C. Lamb to Harry Potter in several ways:

Instead of a lightning bolt on the forehead, J.C. Lamb wears the sign of the fish on his chest, right over his heart
J.C. Lamb is magical because God sent him as a messenger arriving in a vision from a song, not in a basket to live under the stairs.
Instead of using wands and witchcraft, children who meet J.C. Lamb learn how to spiritually see with their hearts by believing in things they cannot always see with their own eyes--which is an important lesson, since not everyone can see J.C. Lamb at first!
J.C. Lamb uses "Give & Share" as his sport of choice instead of quidditch.
This "magical" book also contains secrets the author didn't see coming.
When LeFerna finished the first book draft, the title was "Meet J.C." This was before she said she felt led to rewrite the true names of God and Jesus into "Mystery Sunday" and change the title to "The Secret of Yahweh!"
"After this change, strange things began to happen," LeFerna says. "It was as if the secrets to the novel extended beyond the pages of the book. My first surprise was the way this twist on Mary's Little Lamb seemed to be attracting adult readers claiming to learn something new from this children's story about Christianity. This was quite a complement for someone who claims to have spent the first 40 years of her life 'wandering in the wilderness' of the un-churched."
Initially, LeFerna thought she was writing for ages 7 to 12, adding more than 100 illustrations so parents would read it with their younger children, but the library refused to stock the book, claiming it didn't have an age category at all. LeFerna then revised the book with its own lending program for church members to use as a tool to reach out to all ages, seeing to whom and how far the book travels before coming back (with some being sent overseas to U.S. soldiers).
Mary's Lamb Publishing predicts tweens will enjoy sharing J.C. Lamb books the most, but as school draws near, college students seem to love J.C. Lamb, too -- and want to start their own circles on campus, picking up on the slogan: "Do you know the secret yet?"
A novel for the 'child of God' in all of us, the book is available to booksellers through Ingram/Spring Arbor as well as online.
"Jesus tells us in the book of Mark to 'be as little children,'" LeFerna says. "What a great way to learn about Christianity or reaffirm your faith. Read this Christian children's novel and see if J.C. Lamb in 'The Secret of Yahweh!' really is the 'answer' people say it is."
Interested parties may contact LeFerna for speaking engagements or book signings at leferna @ maryslambinc.com or call 1-888-MARYSLAMB.
For further information contact:
Mary's Lamb Publishing
http://www.maryslambinc.com
(517) 547-3656
###