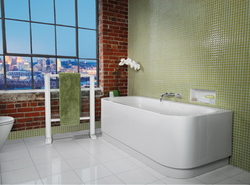 We took the question straight to the people, and they chose cream
Chicago, IL (Vocus) August 6, 2008
Thermique Heated Glass Towel Warmers are now available for sale directly to the public in designer colors. Thermique officially launched its online store today, along with a brand new color of towel warmer--cream! With elegant heated glass in a colorful freestanding frame, Thermique Towel Warmers provide homeowners and design professionals with style options unlike anything else on the market today.
Thermique believes home appliances should be beautiful as well as functional. With Thermique's patented design, towels and linens are draped over an elegant pane of heated glass. The glass itself radiates warmth evenly across the entire surface so fabrics are perfectly heated, and the towel warmer actually enhances the appearance of the home. For homeowners who never imagined a towel warmer complementing their décor, it provides a beautiful new option.
To provide even more design options, Thermique offers towel warmers in more designer colors than any other manufacturer. The latest color option was selected by popular vote at the KBIS 2008 tradeshow. Industry experts and design professionals were invited to cast a ballot for their favorite new color, and cream was the overwhelming favorite.
"We took the question straight to the people, and they chose cream," said Mike Hobbs, CEO of Thermique Technologies, LLC. "It is a beautiful choice. And now we're taking our towel warmers straight to the people with an online store where you can buy directly from Thermique."
The online store is located at http://www.thermiquetech.com.
The UL-approved, freestanding Thermique Towel Warmer does not require wall space or professional installation, only a standard GFCI wall outlet. Its versatile design is perfect for bathrooms, indoor pools and spas. The Thermique Towel Warmer is also ideal in the laundry room for drying delicates, by the door for wet jackets and socks, or in the bedroom for blankets and comforters.
"Would you rather decorate a home with metal bars or heated glass?" asked Hobbs. "The choice is clear. The Thermique Towel Warmer makes a beautiful addition to any home."
Thermique heated glass was named among the "Best of What's New" technologies by Popular Science magazine in 2005, and the original Thermique Towel Warmer was voted "Best New Bath Product" at the 2005 Kitchen & Bath Industry Show, as well as earning a Good Design Award from the Chicago Athenaeum. The new freestanding model earned a 2008 ADEX Award for Design Excellence.
About Thermique Technologies, LLC
Thermique Technologies, LLC, is the global leader in the development and sophisticated application of heated glass technology. From its architectural heated glass to its heated glass towel warmers, Thermique's patented technology enables glass to be used in ways never before imagined.
To learn more about Thermique heated glass technology and its many applications, call (312) 326-9193 or visit http://www.thermiquetech.com.
Contact:
Rick Lewis
Gish, Sherwood & Friends
(615) 385-1100
rlewis@gish.com
###