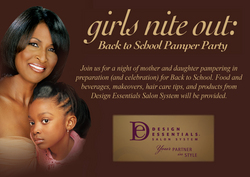 Atlanta, GA (PRWEB) August 6, 2008
Design Essentials Salon System, a line of premium hair care products designed to infuse hair with a natural balance of the finest ingredients, recently announced that it will host Girls Nite Out: "Back to School Pamper Parties" at hair salons in five cities. These free events will give hundreds of young girls, teens, college students and women the opportunity to be empowered by learning about Design Essentials products and techniques to use for "fresh from the salon hair" at home.
"Design Essentials is all about the community and this is another way to serve those who support us," says Cyntelia Abrams, Marketing Associate of McBride Research Laboratories (MRL), the family-owned & operated company which launched Design Essentials. "We also feel it is important for females of all ages to embrace their natural beauty, bond with other women and to learn how to care for their hair. Design Essentials is also excited to support the professional hair salon, for which our company has its roots."
The Girls Nite Out "Back to School" Pamper Parties feature nothing short of a great time in the lives of young girls, teenagers, young adults, and mothers! Mothers will learn how to properly care for their daughter's hair...and their hair too. Teens and young adults will learn the basics of healthy hair, the do's and don'ts. Design Essentials professional stylists will provide hair consultations, makeovers, and the techniques needed to create and maintain healthy hair at home. Food, beverages, music, and fun will also be provided.
Each attendee will be eligible to win a complimentary Design Essentials gift set and a complete makeover, which contains the entire line of home maintenance products. The goal of the Girls Nite Out: "Back to School Pamper Parties" is to not only provide education on better hair care, but to also provide women and girls with an opportunity to bond with each other. Each event will feature food, beverages, music, giveaways and contests hosted by a local radio personality.
Girls Nite Out "Back to School" Pamper Parties will be held:

August 12 - Eatonville, FL
August 13 - Lanham, MD
August 19 - St. Petersburg, FL
August 20 - Odenton, MD
August 26 - Chesapeake, VA
For more information on Design Essentials Salon System and Girls Nite Out: "Back to School Pamper Parties" schedule, visit http://www.designessentials.com. To request interviews, press passes and/or post event photos, please contact Nneka Egwuatu at 678-884-4008 ext.714.
About Design Essentials: Design Essentials Salon System was launched in 1990 by McBride Research Laboratories, which provides direct distribution of premium, quality hair care solutions engineered to infuse hair with a natural balance of organic ingredients, vitamins and proteins that promote healthy and manageable hair. Today, MRL offers more than 40 premium beautification products through e-commerce and direct-to-hair salons network of independent, exclusive distributors in the United States, Caribbean and the United Kingdom.
# # #