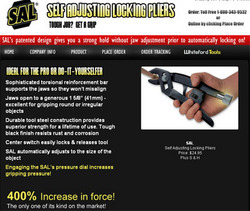 What this means for the user is more gripping force with less effort
Orange, CT (PRWEB) August 7, 2008
Whiteford Tools LLC is launching its online store, WhitefordTools.com, with a rugged tool for professional mechanics, homeowners, car owners or handymen. The company's first product offering is self-adjusting, parallel jaw locking pliers available only at the company's online retail shop.
Whiteford Tools specializes in technologically advanced tools that simplify repairs and construction. The online store is geared toward anyone who uses tools, from the professional mechanic or repair specialist to the weekend do-it-yourselfer. The co-owners of Whiteford Tools Inc. - Donald Miller, John Cory, Keith Levine and the late J.P. Clark - all have backgrounds in tools, dies and equipment.
According to co-owner John Cory, the featured self-adjusting locking pliers, or SAL, use torsional reinforcement bars to prevent jaw misalignment, a problem often seen on competitive products. Its torsional reinforcement bar minimizes the risk of misalignment that often occurs with other parallel jaw locking pliers, while maximizing clamping force and grip on an object. The force-multiplying feature makes the SAL especially useful for people with limited hand strength, and for reducing fatigue associated with heavy professional use.
Co-owner Donald Miller added: "What makes SAL unique is the locking feature, pressure boosting dial, curved serrated jaws and torsional reinforcement bars make a great multi-use tool that is easy to use for a novice and durable for a professional who wants to carry fewer tools and work more efficiently. SAL makes a great gift. It's a must-have tool for the house and car."
The patented design of the self adjusting locking pliers provides the user with a sturdy grip on a nut or other object without the need to adjust the jaw before locking on. This is accomplished with a locking and force-multiplying feature that gives the user high clamping pressure without requiring greater hand strength.
The parallel jaw locking pliers allow users to amplify jaw force by 400 percent after locking on by quickly engaging the pressure dial. "What this means for the user is more gripping force with less effort," co-owner Donald Miller added.
Unlike typical stainless steel locking pliers, co-owner John Cory explained, "SAL's durability is due to the use of hardened alloy steel. Its versatility is due to its adjustable serrated jaws, which can grip objects of up to 1 5/8 inches in diameter - ideal for loosening tight bolts, nuts, pipes or other objects."
SAL is 9 inches long and features curved serrated jaws for gripping, a corrosion-resistant black finish and a one-year replacement guarantee.
To purchase or for more information about SAL, Whiteford Tools' 9-inch Self-Adjusting Locking pliers, or Whiteford Tools LLC, log onto WhitefordTools.com.
About Whiteford Tools LLC:
Whiteford Tools LLC, seller of the 9-inch, Self-Adjusting/Locking pliers known as SAL, designs, develops and markets hand tools. Whiteford Tools provides homeowners, do-it-yourselfers and professional mechanics with easy-to-use products that increase efficiency and have guaranteed reliability. Owners and founders Donald Miller, John Cory, Keith Levine and the late J.P. Clark all have backgrounds in the tools and equipment industries.
###