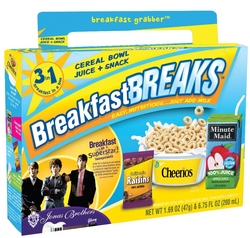 Woodbury, NY (PRWEB) August 6, 2008
ESE Foods, the creator of the popular Breakfast BREAKS grab and go breakfast meal, today issued a statement reaffirming its commitment to delivering nutritionally superior meal options to America's children in response to the Center for Science in the Public Interest's newly released study, "Kids' Meals: Obesity on the Menu." The study shows that most meal options for kids at leading fast food chains, including McDonald's, Burger King, Wendy's, KFC and Taco Bell, dramatically exceed recommended calorie amounts for children.
Breakfast BREAKS is a nutritious breakfast kit for kids that is available in both the retail and school foodservice sectors. The retail version of the product was launched earlier this year and is currently available in stores including Wal-Mart, Target and numerous grocers across the country. The retail Breakfast BREAKS product is modeled after the popular school version being used by hundreds of thousands of students across the country.
"With obesity so pervasive among children nationwide, we are very concerned about the poor nutritional quality of so many meal choices for kids and the recent study released by the Center for Science in the Public Interest highlights an issue all parents across the country should take notice of," says Gary Davis, CEO of East Side Entrées and creator of Breakfast BREAKS. "We are committed to doing all we can to combat these disturbing statistics by offering our trademark nutritious meals for children and by educating Americans on the vital importance of starting the day with a balanced breakfast."
According to the CSPI study, ninety-three percent of 1,474 meal choices for kids at 13 leading national restaurant chains top 430 calories, the amount the Institute of Medicine recommends as one third of the total number of calories children aged four through eight should consume in one day. The group singled out several particularly unhealthy examples of meal options that are available at major chain restaurants across the country.
The retail version of Breakfast BREAKS is comprised of a convenient single-serve box that contains a Bowl Pack™ cereal from General Mills, a 100% fruit juice box from Minute Maid®, a division of The Coca-Cola Company, a nutritious snack, and utensils.
In 2007, ESE Foods introduced to school foodservice programs its "Gold Star" Breakfast BREAKS to help offset the growing concern about poor nutrition and help foodservice directors more easily identify meals that are nutritionally superior. "Gold Star" Breakfast BREAKS include eight grab-and-go varieties with greater nutritional value than competing products because they fall below the USDA's nutritional guidelines for the maximum recommended cholesterol levels and percentage of calories from fat and saturated fat.
To qualify as "Gold Star," a Breakfast BREAKS school foodservice kit must provide:

Less than 20% calories from fat
Less than 5% calories from saturated fat
25g or less of sugar
A good source of Vitamin A, Vitamin E, Calcium, Riboflavin (B2) and Niacin (B3)
An excellent source of Vitamin B6, Vitamin C, Iron and Thiamine (B1)
To provide an additional source of nutrients, "Gold Star" Breakfast BREAKS also include "Minute Maid Kids + 100% Juice," a juice fortified with Vitamin A, B1, B6, C, E and calcium that is not available in competing breakfast kits.
Breakfast BREAKS also recently teamed up with teen music sensation the Jonas Brothers to spread the word about the many benefits of eating breakfast and the availability of the product both in retail and school foodservice versions. The band is featured on specially marked Breakfast BREAKS boxes.
In 2005, ESE Foods' parent company, East Side Entrées, developed Breakfast BREAKS for schools in response to the startling fact that millions of children across America who are eligible for a free or reduced-price breakfast through the national School Breakfast Program were still not receiving them. Out of 55 million children who attend school in the United States, 30 million eat federally funded lunch at school, yet only 9.6 million eat federally funded breakfast.
The school version of Breakfast BREAKS was an instant hit, helping thousands of schools overcome obstacles that prevented them from serving breakfast because the kits required no heating or refrigeration, could be served quickly with little staffing and contained quality branded products that kids love to eat. Studies prove that a healthy breakfast improves a child's overall health, raises test scores, and improves academic performance. When served with milk, Breakfast BREAKS offers a fun, nutritious and convenient option for parents, educators and children.
In the first year alone, Breakfast BREAKS were purchased by schools in more than 40 states, helping them serve hundreds of thousands of kids a nutritious breakfast. In response to an overwhelming request from parents to have the Breakfast BREAKS product available for home use, the company developed the new retail version and launched it this year.
About ESE Foods
ESE Foods is a subsidiary of East Side Entrées of Woodbury, New York, which specializes in developing and marketing nutritious, kid-friendly products to the school foodservice and retail markets. East Side Entrées has been a leading supplier of nutritious food products to America's children since 1998. The company works with registered dietitians and leading nutritionists to create delicious and nutritious products geared specifically to children. Breakfast BREAKS was designed to eliminate the traditional barriers to serving breakfast to children. To learn more about Breakfast BREAKS, go to http://www.breakfastbreaks.com.
©2007 The Coca-Cola Company. "Minute Maid" is a registered trademark of The Coca-Cola Company used under license.
###