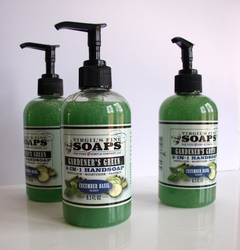 This homespun culture is authentic to the brand, because it's where the company was born. (Virgil's roots lie in Brookville, Ohio, a rural town in western Ohio.)
Tipp City, OH (PRWEB) August 8, 2008
Ohio soap company, Virgil's Fine Soaps, announces the launch of their liquid soap line in time for the holidays. Available in lavender, citrus, cucumber and spice scents, Virgil's liquid soaps build on the company's signature skin care formula and aim to make daily skin care pure & simple.
"Our customers have been instrumental in the development of our line, and they know we're dedicated to making them look and feel great," Katie Schroeder, Virgil's Soap Queen, says. "We've been surprised to hear all of the great ways that they use our soaps. Many write us glowing about our soaps' acne fighting abilities. One customer threw away her expensive skin care regimen and bought a case of Virgil's instead. Another customer performed his own 'research study' to prove that Fisherman's Friend keeps mosquitoes away," she chuckles. "The soap kept it's promise and we gained a customer for life!"
Developed to exfoliate, moisturize and protect skin every day, the generous 8.5 ounce bottles exfoliate skin with a signature blend of pumice and loofah while they moisturize and protect sensitive skin with the healing powers of aloe and vitamin E. The labels look great in the kitchen, bathroom and shower.
Featuring names like Gardener's Green Cucumber, Animal Lover's Lavender, Fisherman's Friend Anise and Cook's Companion Citrus, the line is clever, friendly and straight-forward, while the pure and simple scents that make you feel "fresh not flowery" so that everyone in the family can use them.
Designed by San Diego brand design agency, Fuelhaus (http://www.fuelhaus.com), the new labels retain Virgil's "General Store" brand, reminiscent of a nostalgic, simpler time."Virgil's may be an international brand, but Virgil's treats everyone like family. We want to take everyone back to the slower paced, rural lifestyle we grew up in: where everyone knows everybody by name." Michelle Stinnett, Fuelhaus Vice President, explains. "This homespun culture is authentic to the brand, because it's where the company was born. (Virgil's roots lie in Brookville, Ohio, a rural town in western Ohio.)"
Launching just in time for the holidays, the company is offering an introductory 20% discount on web and phone orders made prior to October 1, 2008.
Available for sale on the internet at http://www.virgilsfinesoaps.com, Virgil's Fine Soaps offers wholesale pricing and is currently seeking sales reps in the United States and Canada.
###