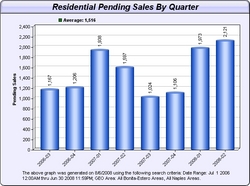 Naples, FL (PRWEB) August 7, 2008
Pending Sales:
2008: 4094 up 16%
2007: 3535
Notes: Some of the gains are false due to a higher than normal fall out rate. More contracts are failing to close due to difficult negotiations with lenders on many properties that are being sold short (for less than the outstanding mortgage).
Closed Sales:
2008: 3326 up 9%
2007: 3065
Notes: Actual sales are probably some what higher due to many listings not being reported as sold. Longer than normal closing processes (due to lender negotiations on short sales) have caused listings to expire prior to closing and many of those listing have not been reported as closed.
Median Price:
2008: $315,000 down 18%
2007: $385,000
Notes: The slow sales activity of 2006 & 2007 bloated inventory and finally drove prices down, short sales and foreclosures added fuel to the fire.
New Listings:
2008: 12,557 down 15%
2007: 14,794
Notes: This might be the healthiest statistic for the market. It may indicate that investors who are dumping their bad 2005 purchases might be drying up, bringing better balance between buyers and sellers.
Outlook:
It is clearly apparent that the bottom in terms of activity is well behind us now. Prices have continued their fall, but with inventory declining and activity up, we should see prices stabilize over the next quarter or two.
Advice:
Over all market statistics are certainly interesting, however Amerivest Realty strongly advises all buyers and sellers to evaluate their sales and purchases based on a thorough market analysis of each property. Each area, subdivision has its own market cycles and fluctuations that may not be in concert with the overall statistics.
Notes:

The sales numbers DO NOT include sales at the court house steps (foreclosure auctions)
All statistics taken from SunshineMLS.com on August 6, 2008
Reports included data from the geographic areas, as listing in MLS, for Naples & Bonita Springs Florida.
###