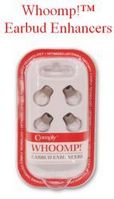 when people are exposed to a certain level of noise every day for a certain duration, they're going to have a certain degree of hearing loss on average.
Jericho, NY (PRWEB) August 7, 2008
The Archives of Internal Medicine recently conducted a study which found that hearing loss is becoming increasingly common in American adults. According to the study, 16% of Americans have an impaired ability to hear speech and 30% of Americans over 20 have lost some of their high frequency hearing. With approximately 55 million Americans affected by hearing loss, the need for quality hearing protection products that decrease the possibility of permanent hearing damage has become essential. SoundBytes offers products that could reduce the risk of hearing loss due to the overuse of iPods and MP3 players.
Dr. Brian Fligor, the Director of Diagnostic Audiology at Children's Hospital Boston, explained to Time.com that "when people are exposed to a certain level of noise every day for a certain duration, they're going to have a certain degree of hearing loss on average." Actual hearing loss depends on several factors including the individual person, how long they are listening to an iPod or MP3 player and the level of the sound.
Noise induced hearing loss is caused by damage to special cells, called outer hair cells, located deep in the inner ear. When these cells are stimulated by excessive noise for too long, metabolic exhaustion stops them from functioning. Although they can recover after a single incident, repeated overexposure can lead to the death of the outer hair cells, and once they die, they can not be replaced. Studies show that people who are using standard MP3 player or iPod headsets for 90 minutes per day at about 80% volume level will not suffer hearing damage; however, the higher the volume, the less time you can listen without damage. The studies also explain that the volume at which people listen to MP3 players and iPods is affected by the level of background noise. Dr. Fligor recommends using a better quality earphone that blocks out background noise, so that music can be enjoyed at a lower volume.
SoundBytes offers noise canceling headsets that can significantly diminish the danger involved in using an iPod or MP3 player. Comply Whoomp! Earbud Enhancers enhance bass sounds, and offer great comfort and fit while canceling environmental noises. The enhancers gently conform to the ear canal entrance by using COMPLY foam, cradling the bowl of the ear. Sounds are enhanced and unwanted noise is reduced. SoundBytes also recommends the Comply NR-1 Noise Reduction Headphones. These earphones reduce external noise by approximately 42 dB while simultaneously increasing higher frequency sounds by 5 to 10 dB. The soft memory foam tips comfortably conform to your ear canal, filtering out external noises and helping prevent hearing damage. Both headsets allow the user to listen to music at a lower volume while enjoying better quality sound than traditional headphones. SoundBytes is proud to help preserve America's hearing through the use of noise canceling headsets. For more information on noise canceling headsets or other noise canceling technology, please visit SoundBytes' web site at http://www.soundbytes.com.
About SoundBytes
Soundbytes is a catalog, web and retail-based company specializing in providing assistive equipment for Deaf and Hard of Hearing individuals and the agencies that serve them. In addition, they assist businesses in maintaining ADA compliance. SoundBytes offers amplified telephones, TTYs, FM systems, household notification systems, hearing aid batteries, maintenance equipment, and other assistive living and communication products. SoundBytes is based in New York and is a division of independent living aids, LLC (http://www.independentliving.com) a company specializing in products for blind and low vision individuals.
# # #