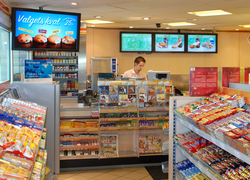 We choose Scala because we were looking for a software provider that had experience in larger networks. It was important for us to choose a thoroughly tested and established software platform that provided a variety of content possibilities
Exton, PA (PRWEB) August 8, 2008
Scala, the leading provider of end-to-end digital signage software, today announced that StatoilHydro has chosen Scala to link their petrol stations with a digital signage network in Scandinavia and the Baltic countries.
StatoilHydro is an integrated technology-based international energy company primarily focused on upstream oil and gas operations. Ranked #70 on the Fortune 500 list StatoilHydro is the 13th largest petroleum company in the world.
Headquartered in Norway, StatoilHydro has more than 30 years of experience from the Norwegian continental shelf, pioneering complex offshore projects under the toughest conditions.
The agreement between Scala and StatoilHydro finalizes an effort to develop a digital Petrol Station Network through the Scandinavian and Baltic countries. The Petrol Station Network is the cornerstone of a digital media concept conceived by the company to support current and future requirements for distribution and sharing of digital information across the Petrol Station Network in each country.
StatoilHydro has already started deploying their digital Petrol Station Network. Their network has a potential of 1500 Statoil-branded service stations. The deployment is starting in Norway, Denmark and Sweden with content that will be delivered over the internet to each Statoil station.
The digital signage network will be used to engage customers in the convenience store area of the stations by providing them with relevant information including news and weather, and will also be used as digital menu boards to display food and beverage options provided at each location.
"We choose Scala because we were looking for a software provider that had experience in larger networks. It was important for us to choose a thoroughly tested and established software platform that provided a variety of content possibilities," says Erik Sandsbråten, project manager in Statoil.
About Statoil Petrol Stations
StatoilHydro operates 1150 full-service Statoil-branded service stations in Scandinavia as well as roughly 225 fully-automated sales outlets under the 1-2-3 name. The group holds a leading position in the Scandinavian service station sector, with roughly 23% of the market. StatoilHydro also operates 175 Statoil-branded service stations plus 15 unstaffed 1-2-3 sites in the Baltic counties and 250 Statoil-branded service stations in Poland.
Statoil-branded service stations offer petrol, diesel, fast food, groceries, car- and leisure products. Some stations also offer carwash and additional car services.
About Scala
Scala is the leading global provider of software solutions for the connected signage industry including digital signage software and advertising management software for both digital and traditional signage networks. The company's connected signage software is used for dynamic signage networks in retail, education, entertainment, government and other industries for diverse applications such as Retail Advertising networks (Retail TV), Corporate Communications (Employee TV), Digital Billboards, Digital Menu Boards, Digital Posters, Community Access channels (Cable TV), Hotel lobby signage and information channels, Gas Pump "toppers", Billboards, Outdoor Advertising, Interactive touch-screens and Kiosks, etc. Scala pioneered the Connected Signage industry and today remains the world's largest provider of software for creating digital signage networks, driving more screens than all competitors combined. The Company provides enterprise class advertising management software for both digital and traditional signage networks to the world's largest outdoor advertising companies including CBS Outdoor, Clear Channel Outdoor, Magic Media, Reagan, Adams Outdoor Advertising, and many more. The Company's cutting-edge digital signage software powers thousands of digital signs around the world including the digital signage networks of Rabobank, IKEA, Burger King, T-Mobile, Virgin MegaStore, EuroDisney, McDonalds, Warner Brothers, Ericsson, The Life Channel, Rikstoto, FuelCast, Repsol, Shell, NorgesGruppen and many more. Scala is today headquartered near Philadelphia, PA and has wholly-owned subsidiaries in Canada, The Netherlands, France, Norway, and Japan with a direct presence in a number of other locations and countries. More information is available at http://www.scala.com.
©2008 Scala, Inc. 350 Eagleview Blvd. Exton, PA 19341. Scala, InfoChannel, and the Exclamation Point Logo are registered trademarks of Scala, Inc. All other trademarks are the property of their respective organizations.
###