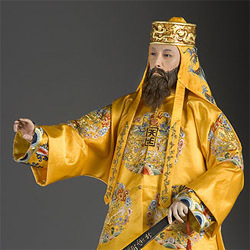 What better time to recognize recent Chinese history and to share a westerner's view of it?
Ojai, CA (PRWEB) August 7, 2008
To honor the 2008 Beijing Olympic Games, the Gallery of Historical Figures (http://www.galleryhistoricalfigures.com) is hosting the highly-acclaimed Manchu Dynasty Historical Figures® of sculptor and historian George Stuart. Until now, the unique 26-piece group could only be seen in museum exhibits. "What better time to recognize recent Chinese history and to share a westerner's view of it?" said Stuart.
The Manchu Dynasty collection begins with Nurachi, who defeated the ailing Ming Dynasty in 1616 and ends in 1967 with the death of Pu Yi, the last emperor. The 350-year interval is represented by emperors, other royalty, courtesans, warlords, military, reformers, peasants and more. Pictured here is the ill-fated Taiping Emperor Hung Hsiu Ch'üan, self-acclaimed "Brother of Christ".
Other Manchu Historical Figures include: Nurhachi, a Bannerman, K'ang-hsi Emperor, Tao Kuang, Chien Lung Emperor, Hsien-Feng Emperor, Hsuan K'ang Yu-Wei, Kuang-Hsu Emperor, Li Hung-Chang, Li Lien Ying, Prince Kung, Prince Tuan, a Peasant, Tung Chih Emperor, Hsuan Tung Emperor (Pu Yi), Tung Chih Emperor, Tzu Hsi Empress Dowager, Tzu-An Empress, Yuan Shih-Kai and a Boxer. The 20th Century Figures include Sun Yat-Sen, Soong Mai-Ling, Chiang Kai-Shek and Mao Tse-Tung.
Stuart researches a subject exhaustively and then creates a three-dimensional portrait. To assure maximum possible historical accuracy, Stuart collaborated with LU Zhengliang Arts Studio (http://www.artsuzhou.com.cn) in Suzhou, China on many of the Manchu Historical Figures. LU located and studied many of the original robes and then embroidered the quarter-scale designs on specially selected fabrics.
The Manchu Dynasty Historical Figures are in collections of the artist and Museum of Ventura County, Ventura, CA (http://www.venturamuseum.org).
About the Artist:
For more than fifty years George S. Stuart has been capturing the essence of history's most famous and infamous personalities. He has created more than four hundred Historical Figures, which have been exhibited in the Smithsonian and other museums nationwide. Each Historical Figure® is a highly realistic, quarter life-size, three-dimensional portrait in mixed media. In addition to Manchus, Stuart groups depict Historical Figures of the Americas, Russia, France, England and European countries. Mr. Stuart also presents entertaining and educational monologs on the history and times of each group.
###